Become a Nutrition Coach in Just 6 Months
Get industry master certified by professional celebrity nutritionist, Keri Glassman. Learn everything you need to know to coach others on nutrition and wellness, and build a lucrative business.
What Getting Master Certified Means For You
Whether you're a nutrition newbie, looking to jumpstart your wellness business, or a Registered Dietitian seeking new tools to help your clients get the best results, the Nutritious Life Master Certified Nutrition and Wellness Coach training is for you.
We offer competitive tuition rates, enrollment bonuses, and generous seasonal discounts! Find out more about the value of Become a Nutrition Coach and the pricing.
This 6-month online course includes:
Over 120 lessons covering every aspect of nutrition coaching

Nutrition basics, to cutting-edge science and counseling information

Everything you need to start and grow your own business

The tools and skills to become a Nutritious Life Master Certified Nutrition Coach

100% online curriculum so you can transform lives from anywhere you have Wi-Fi
Discover why you should train with Health Coach Institute and The Nutritious Life Studio below.
Nutrition Coach Training Program Breakdown
Take a look at the overview of the BNC program including curriculum information, pricing, and more about the certification.
Curriculum
Our Nutrition Coach curriculum includes webinars, lessons, private chats, an exclusive online community, and quizzes to help you master information.
Level One
Level 1 of the training includes the foundation of the Nutritious Life Studio, our philosophies, and how to get started as a nutrition coach.
Level One
LESSON 1:
Explanation of a Nutritious Life
LESSON 2:
Nutrition 101: Carbohydrates, Fats, Protein, Portions
LESSON 3:
Cravings and Emotional Eating, Environmental Factors, Neurotransmitters, Nutrient Deficiencies, Triggers and Controls
LESSON 4:
Inflammation, Allergies, and Gut Health, Probiotics, Inflammation, Gluten
LESSON 5:
What Makes Us Fat, Hydration, Artificial Sweeteners, Food Labels, Sleep
and Weight Gain
LESSON 6:
Detoxing & Cleansing, Organic Foods, and Labeling
Level Two
Level 2 of the Master Certification goes into a lot more in-depth material covering science, counseling, and business, to help you become the most successful Nutrition Coach possible.
Level Two
LEVEL 2 – UNIT 1: Science
In the science portion of the Nutritious Life Master Certification Nutrition Coach training, you'll learn about everything from mental health, hormones, and heart disease, to obesity, autoimmune diseases, and gut health. The range of this unit is extensive and detailed, but it's meant to help you become the best coach possible, no matter your client's situation. You never know what a client will come to you with and you want to have as much information as possible to help them. This unit is designed to give you the confidence and knowledge to speak on a vast array of topics such as cholesterol, aging, brain health, exercise, and so much more.
MODULE 1: Heart Disease
MODULE 2: Obesity
MODULE 3: Aging & Brain Health
MODULE 4: Gut Health & Digestive Disorders
MODULE 5: Thyroid & Hormones
MODULE 6: Autoimmune Diseases
MODULE 7: Mental Health
MODULE 8: Women's Health
MODULE 9: Men's Health
MODULE 10: Athletes & Exercisers
MODULE 11: Food & Environmental Issues
LEVEL 2 – UNIT 2: Counseling
Learning how to counsel is one of the most important parts of becoming a coach. How you navigate and work through certain scenarios, and think on your feet with a client is crucial, and we want to make sure you have the best tools available, no matter the situation you find yourself in. In the counseling series in this course, you'll learn all about behavior and how you can move clients past their fears. You'll also learn about how to set up group coaching programs so you can reach more clients and how to craft a lesson plan for your audience.
MODULE 12: Counseling
MODULE 13: Empowerment, Trust, & Success
MODULE 14: Motivating and Communicating: Making Connections While Counseling
LEVEL 3 – UNIT 3: Business
Building a successful business requires confidence, passion, and a lot of hard work—but it's worth it! In this Unit, we'll teach you how to gain ultimate clarity using the TNS 360-365 Method. You'll solidify the reasons you want to grow your wellness business and remove any fear that might be blocking you. We're going to help you create the brand you intend, design it the way you envision it, and create a website so you can share it with the world. We'll also cover in-depth content creation and social media strategies. Lastly, we'll help you navigate the confusing path of setting up your business, getting contracts in place, adding terms and conditions to your website, and deciding if and what kind of liability insurance you may need.
MODULE 15: Setting Yourself up For Success: Business Clarity
MODULE 16: How to Build a Killer Website that Represents Your Brand
MODULE 17: Creating Content that Converts
MODULE 18: Marketing Funnels and Sales Strategy
MODULE 19: Cracking the Social Media Code
MODULE 20: Getting Down to Business and Creating Happy Customers
Receive Your Official NLMC Certificate & Get CE and CPE credits

Once you complete your Become a Nutrition Coach (BNC) training, you'll be certified as a Nutritious Life Master Certified Nutrition and Wellness Coach and receive an official certificate to display on your website. Completing this program also allows you to gain Continuing Education (CE) credits from a number of organizations.
Academy of Nutrition and Dietetics (AND): The Nutritious Life Studio is prior-approved (as Self Study) by the Commission on Dietetic Registration, the credentialing agency for the Academy of Nutrition and Dietetics (AND), so all RDNs (Registered Dietitian Nutritionists) who complete our program receive 62 CPEs.*
American Association of Drugless Practitioners (AADP): The Nutritious Life Studio is approved and accredited by the American Association of Drugless Practitioners (AADP), meaning once you complete BNC, you'll be eligible to become a Board Certified Holistic Health Practitioner.
National Academy of Sports Medicine (NASM): The BNC program is recognized by the National Academy of Sports Medicine as an Approved Continuing Education Provider. This program will allow you to earn 1.9 CE's and earn credits towards renewing and maintaining your NASM certification, a high level of professional qualification, and increase your ability to attract and help your clients.
Athletics and Fitness Association of America (AFAA): BNC is recognized by the Athletics and Fitness Association of America as an Approved Continuing Education Provider, allowing you to earn 15 CE's. Our program provides reputable continuing education opportunities to AFAA professionals.
American Council on Exercise (ACE Fitness): ACE Certified Pros can earn 3.8 continuing education credits when completing BNC. This program provides information that is within the scope of practice for ACE Certified Professionals, and is conducted in structured learning environments.
National Board of Health and Wellness Coaches (NBHWC): We are a Continuing Education Provider (CEP) approved by the National Board for Health & Wellness Coaching (NBHWC). National Board Certified Health & Wellness Coaches are required to earn 36 continuing education credits every 3 years to maintain their credential. This CE course is approved by NBHWC for 40 continuing education units.
International Coaching Federation (ICF): Students who complete our BNC Continuing Coach Education (CCE) program will gain 136 CCE's and be able to use these credits toward the renewal requirements of an International Coaching Federation (ICF) credential.
How Much Does Becoming a Nutrition Coach Cost?
We offer competitive tuition rates, enrollment bonuses, and generous seasonable discounts!
Pay in full and receive our lowest available tuition rate, or make convenient payments over time.
Connect with one of our Clarity Coaches now to find out more about our payment options and special promotions we're currently running!
BEST VALUE
One payment of
Save Over 30% When You Pay in Full

Includes Exclusive Bonus Content
GET STARTED
*Additional discounts and promotions might be available, talk to a Clarity Coach for details. Plans listed include non-refundable deposit to reserve your seat.
*Additional discounts and promotions might be available, talk to a Clarity Coach for details. Plans listed include non-refundable deposit to reserve your seat.
What kind of Nutrition Coach career can I have?

Whether you're a Registered Dietitian, a personal trainer, a massage therapist, a nurse, or a health and wellness aficionado, becoming a Nutrition Coach can elevate your career to greater heights and expand your ability to help people more deeply. You can find Nutrition Coaches in hospitals, yoga studios, gyms, and wellness centers to name a few. Many Nutrition Coaches are also finding great success in the digital space as nutrition experts and influencers, providing individual and group coaching, authoring cookbooks, selling online courses, authoring blogs and books, and more. They also work closely with athletes and patients who are suffering from chronic diseases (e.g. diabetes, heart disease, stroke, obesity). There are tons of options available to Nutrition Coaches to build the wellness business of their dreams!

What Nutrition Coach training programs do you offer?

We have partnered with renowned nutrition expert Keri Glassman (RD, celebrity nutritionist, and founder of The Nutritious Life Studio) to provide the ultimate Nutrition Coach training. In our six-month Become a Nutrition Coach (BNC) program, you'll learn how to coach clients on nutrition and wellness, and build a lucrative business. This cutting-edge nutrition science, coaching, and business-building program combines up-to-the-minute nutrition knowledge, behavior change coaching, and business training to help you be successful as a coach and build or grow the nutrition business of your dreams. And when you graduate, you'll be a Nutritious Life Master Certified Nutrition and Wellness Coach!
Why Choose Our Nutrition Coach Training Program
Accredited
The Nutritious Life Studio is accredited by the American Association of Drugless Practitioners (AADP) and once you complete the course, you can become a Board Certified Holistic Health Practitioner. All RDNs (Registered Dietitian Nutritionists) will also receive 62 CPEs.*
Get Certified
Once you complete the course you'll officially be a Nutritious Life Master Certified Nutrition and Wellness Coach. Use your certificate as credentials for starting your own business, or to support your current wellness career as a nutritionist, nurse, fitness professional, chef, or dietitian.
Business Tools
This course provides a roadmap for building your business from the ground up. Get invaluable resources straight from Keri Glassman who built her own thriving practice, including website tools, content, marketing, and sales strategies, social media insights, and even legal advice.
See what you can do as a Nutrition Coach
There are a variety of paths you can pursue once you become a Nutritious Coach.
This course is for you if:
You want to start your own Nutrition Coaching business (you'll learn everything you need in BNC to launch)
You're a current Registered Dietitian who wants to learn how to counsel and grow your practice and gain referrals
You're a fitness and athletic coach, yoga instructor, or personal trainer looking to strengthen your nutrition knowledge and expand your offerings
You're a Health or Life Coach looking to gain the nutrition skills necessary to grow your business and reach
You're a massage therapist or spa specialist who's interested in coaching clients on what nutrition works best for their body and skin
You're a writer, blogger, or editor who specializes in health and wellness, and wants to be able to communicate more effectively with your audience
You're a nurse or medical practitioner who wants to provide the best nutrition knowledge to your patients and help them make changes that last
You're looking for a side hustle or transitioning careers and you want to work in a field where you can get paid to help others improve their health and well-being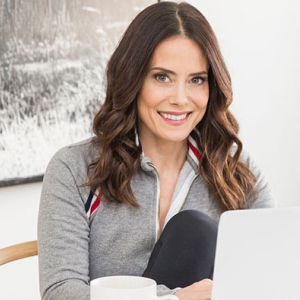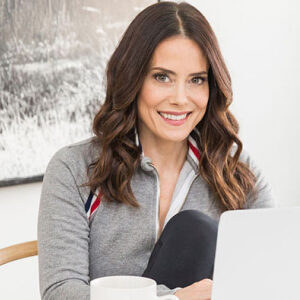 Meet Your Instructor, Keri Glassman
Become a Nutritious Coach was created and founded by renowned dietitian, thought leader, and celebrity nutritionist—Keri Glassman, MS, RD, CDN.
Keri often appears in national media outlets as a leading expert on topics including nutrition, fitness, and wellness trends.
She's been a pioneer in the nutrition and health industry for 15+ years, and is the author of four bestselling books.
Keri developed BNC to provide cutting-edge nutrition and wellness education to as many people as possible and to support a thriving community of wellness professionals in building and growing their businesses.
The 8 Pillars That Shape Our Nutrition Philosophy
At Nutritious Life, our approach to healthy living has always involved eight pillars that emphasize a whole-person (and whole-lifestyle) approach. BNC instructor, Keri Glassman, developed them while working with her nutrition clients and determining that all eight interact and impact all aspects of wellness.
EAT EMPOWERED
A healthy diet involves eating food that fuels your body and fits with your lifestyle.
SWEAT OFTEN
Boost your brain and increase happy chemicals by finding workouts that work for you.
STRESS LESS
Reaching your peak physical, mental, and emotional health requires tools and support to manage stress levels.
SLEEP DEEP
Getting the required amount of sleep is crucial for your well-being and overall health.
LIVE CONSCIOUSLY
Making simple changes to act mindfully in your daily life can benefit not only your health, but the health of the planet.
DRINK UP
Getting proper hydration (aka drinking enough water) can boost your energy, give you clearer skin, and help your digestion.
NURTURE YOURSELF
Nourish your body and mind with frequent self-care, including bubble baths, walks in nature, and meditation.
LOVE MORE
From quality time with your family and friends, to intimacy with your partner, love is an essential part of your health.
JOIN THE PROGRAM
Enroll now and get a special discount off the Nutritious Life Master Certification program.
Join a heart-based community that will support, challenge, and push you to become the best version of yourself.
As a new RD, this program gave me the confidence I needed to start seeing clients right after graduation.

– Amanda Buthmann
There's so much information in each lesson. It's easy to digest and share with my clients.

– Danielle Diamond
I highly recommend this course to anyone looking to educate themselves in the field of nutrition, as well as help others live their healthiest and best life.

– Athena Maldari
One of the best career decisions I've ever made. Adapting TNS's philosophies has given me the right tools I need to push forward and grow!

– Mariam Bandarian