8 Health Coach Websites to Get You Inspired!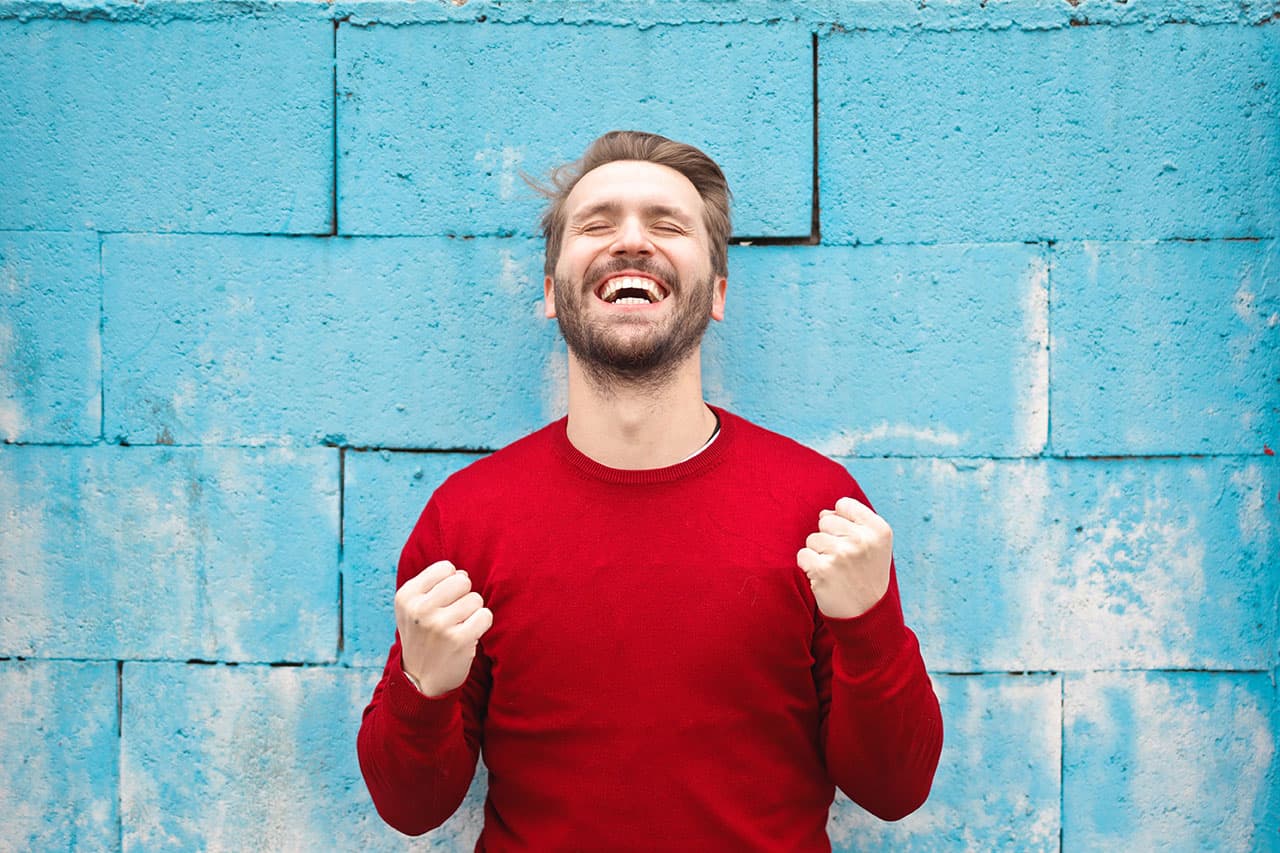 Launching a career as a Health Coach is an exciting time, and has the potential to completely transform your life AND the lives of your clients. But there's one very important step you should take before getting started and that's to create a strong online presence for your business and services.
When people are trying to find a Health Coach to help them tackle health goals and challenges, they're likely to look online first to research and compare Health Coaches. So launching a powerful and inviting Health Coaching website is one of the best places to start once you've completed your training and you're ready to get down to business.
For this post, we're focusing exclusively on websites, but you can find more great information about how to build a successful online coaching business in our How to Become an Online Health Coach post!
Best Practices for Making Health Coach Websites Shine
If you want your Health Coaching website to effectively showcase your services and turn potential clients into actual clients, it should be both dynamic and informative.
Here's a list of all the things a great Health Coach website will feature:
Helpful information about the health and wellness programs you offer, your experience and personal story, and, above all, what sets you apart from other coaches.


A

blog that offers engaging content and resources for current and prospective clients alike.


Your

personality! Don't be afraid to share pictures and stories about everything that makes you YOU! This is your chance to connect with people on a personal level and let them see your passion.


Strong

Calls to Action (or CTAs, as they're referred to in marketing speak!). You want to make sure that anyone who visits your site knows right away what to do next, whether that's booking a consultation, downloading free content, or emailing for more information. Be sure to include buttons and links on every page (and even more than once on each page) asking your visitors to take a desired action.

Great

design

. A good website design is clean, visually appealing, and is easy to navigate. Use complementary colors that align with your brand…but don't make the visuals

too

overwhelming. You want to be sure your content shines through!


Chances to

connect. Along with clear CTAs, you'll want to make sure your website lets visitors know how to reach you via email, phone, and your social channels.

Free content

. Free content is a great way to capture email addresses for your list, as well as an excellent opportunity to showcase your expertise. Free content can take the form of an e-book, infographics, downloads, podcasts, videos, etc.
Featured Health Coaching Websites
At Health Coach Institute, we're proud of all of our grads! They've all graduated and gone on to do amazing things in their careers. Their success comes, in part, from leveraging strong, impactful websites to market their unique and transformative services.
To help illustrate the point, we've chosen 8 inspiring websites created by HCI grads, and highlighted what makes their websites noteworthy.
What immediately stands out about Nicole's site is its beautiful design! It's clean, features simple but beautiful pictures, and leaves plenty of room for the copy to shine. Some other notables:
Her blog is active and offers helpful information for readers.


Nicole cleverly and succinctly communicates her 3-step process for working with clients on her homepage under the headline "3 Steps to a Happier You."

Nicole makes great use of CTAs on her site to entice readers to take action by booking a complimentary coaching session with her.

Nicole also clearly lays out the program options she has for clients including discovery sessions, cleanses, and transformation programs.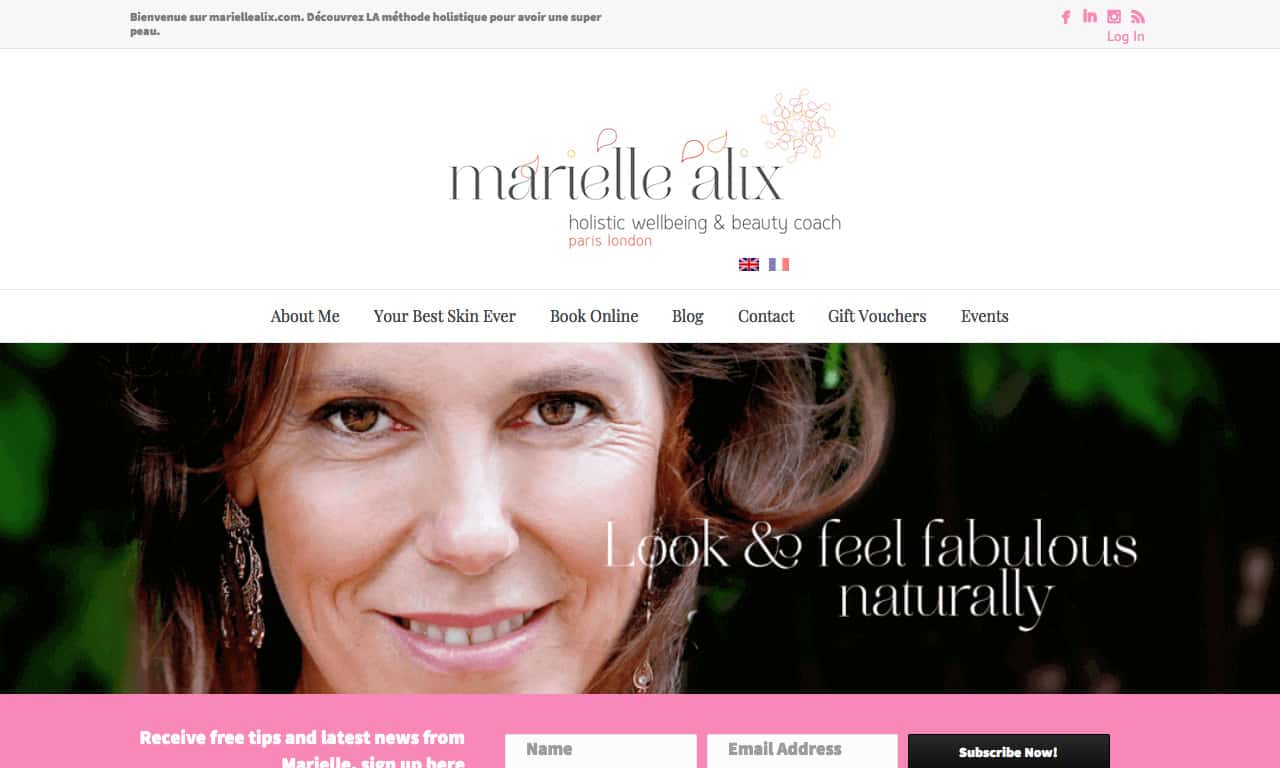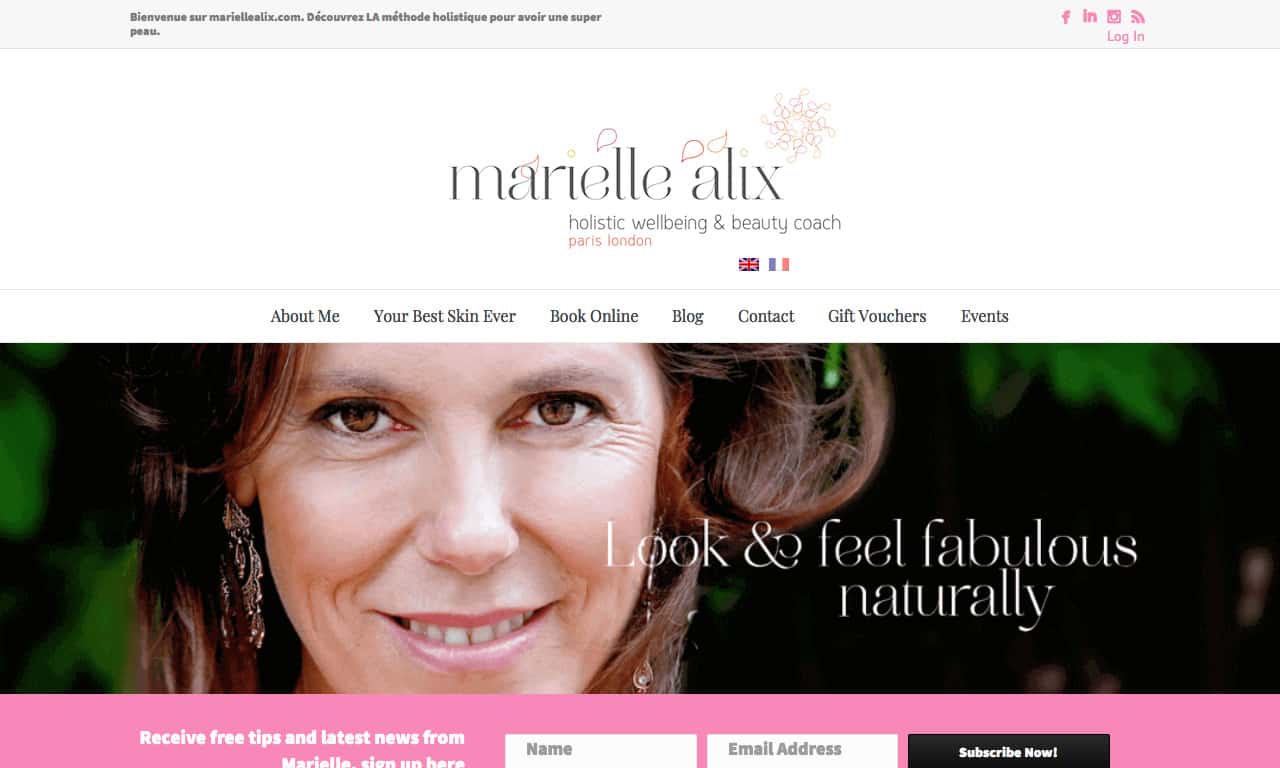 Marielle practices with both French and English-speaking clients, and her site is reader-friendly no matter who's visiting! Her site also boasts a light and airy design, an active blog, and highly visible CTAs. Marielle's site also prominently showcases the various media outlets where her work has been featured…a great way to show potential clients and colleagues she's a trusted expert in her field!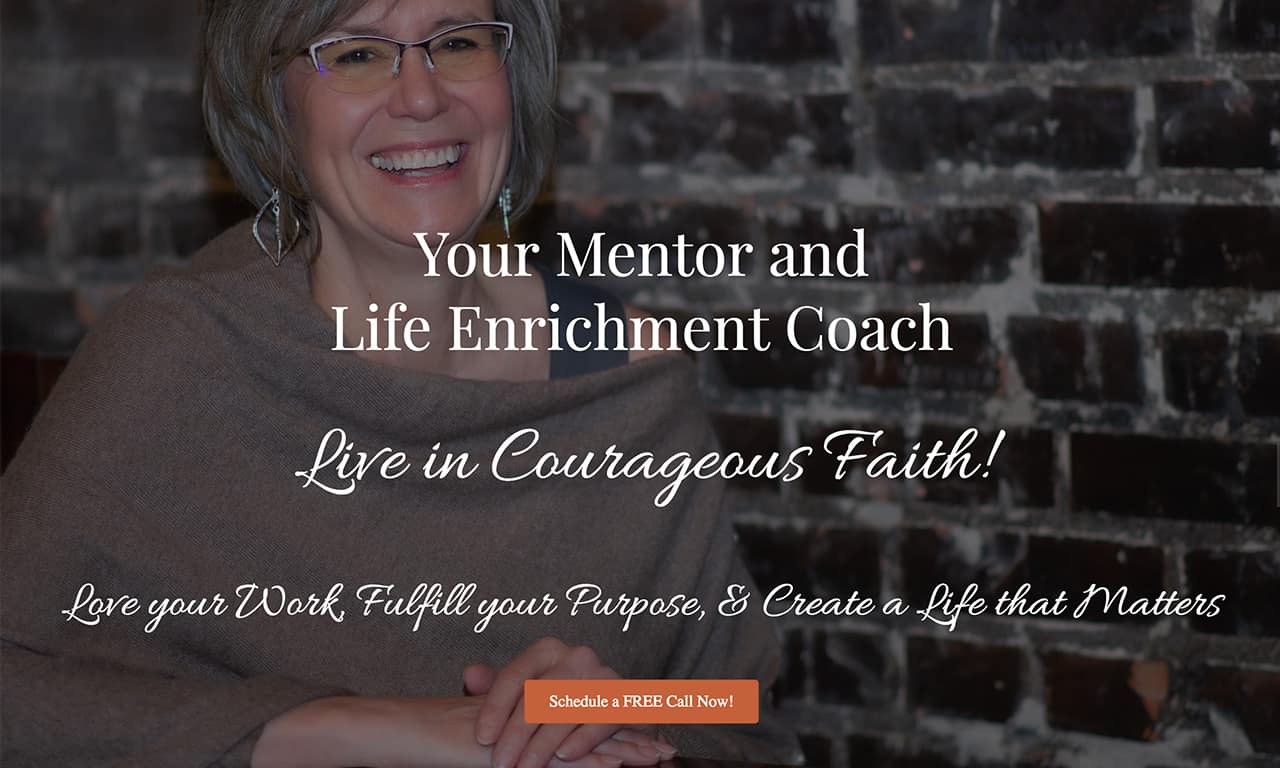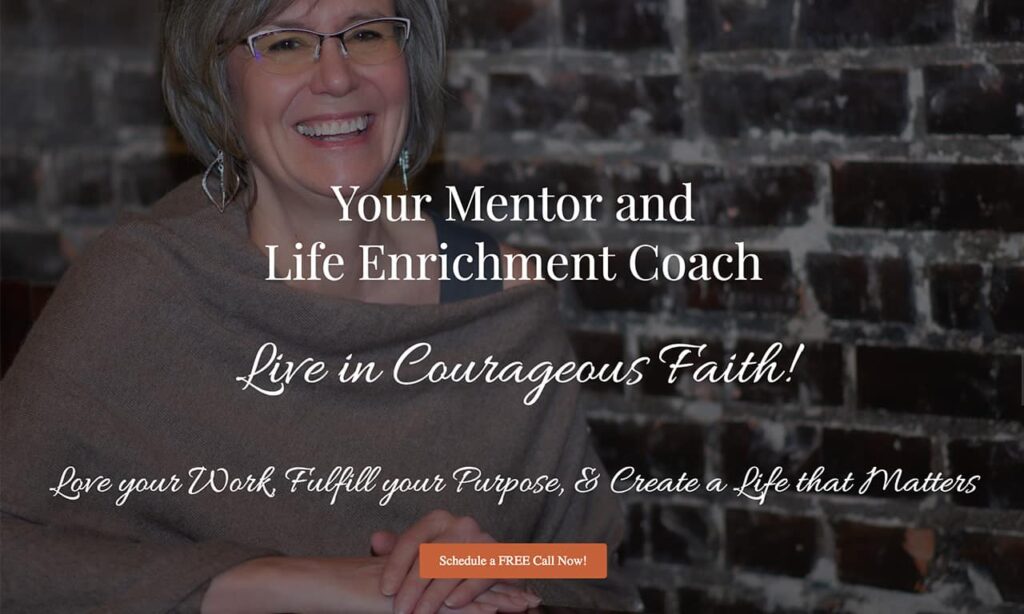 Vona's personality shines through as soon as you visit her page. Her copy makes it clear she's a faith-based coach and that it's a large part of her life. She also includes a CTA immediately at the top of the page, as well as social icons to the left to connect on her other platforms. Some other great features of Vona's site include:
A link to her podcast from her website's main navigation—a great way to share additional information about her services!

An active blog.

Adding her

Health Coach Institute

certification seal to her About page shows prospective clients and colleagues she's well-trained and trustworthy!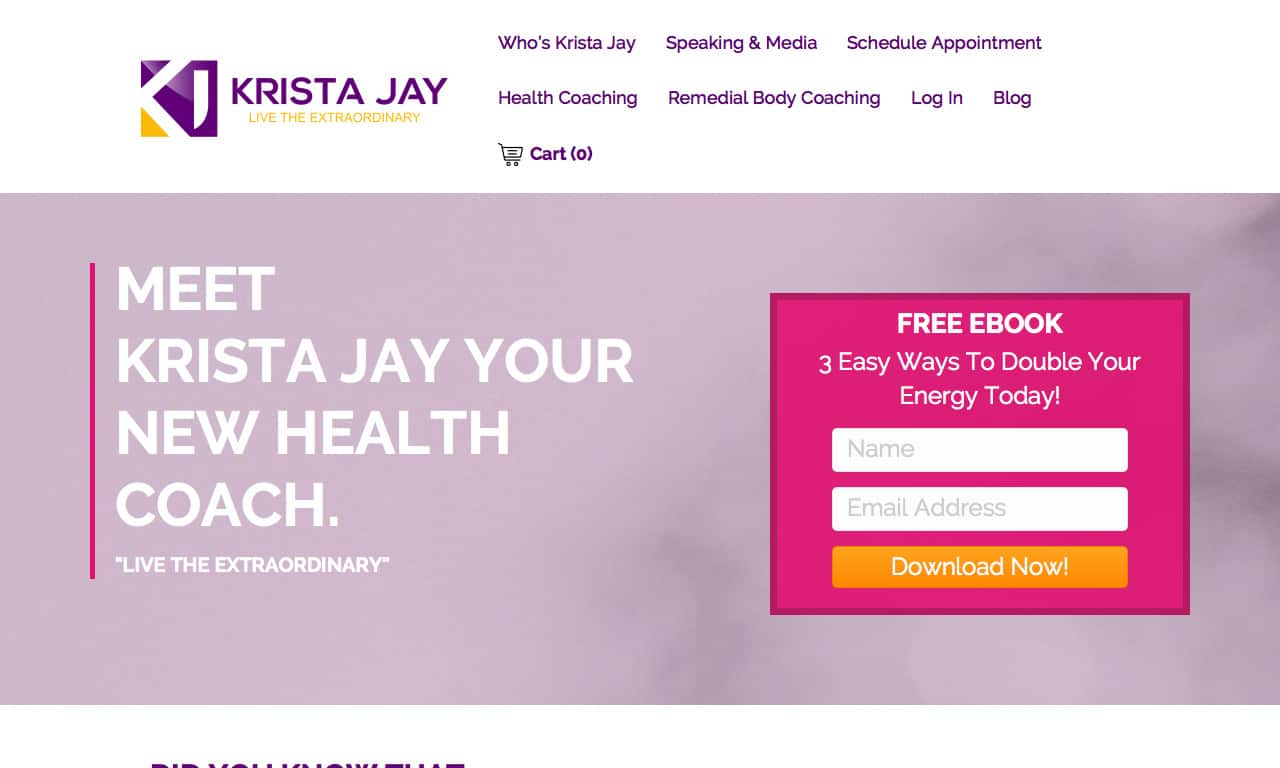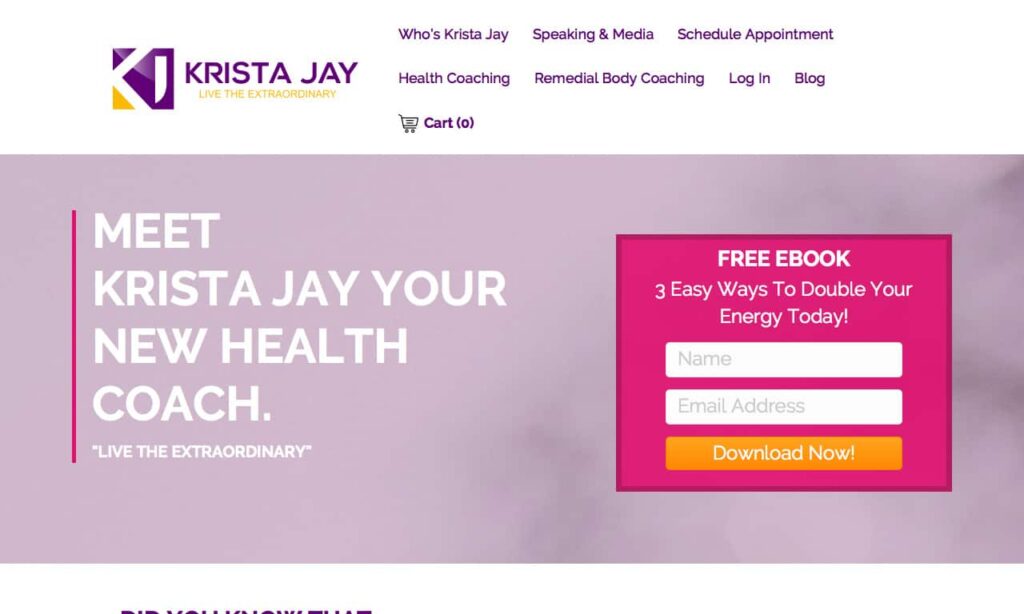 Krista's site is extremely easy to navigate. The tabs are bold and clearly direct visitors to other important pages of her site. She offers free content right away and lots of CTAs throughout the site so clients can take action. She also has a tab for Speaking & Media, which is a great way to highlight the services she offers outside of coaching.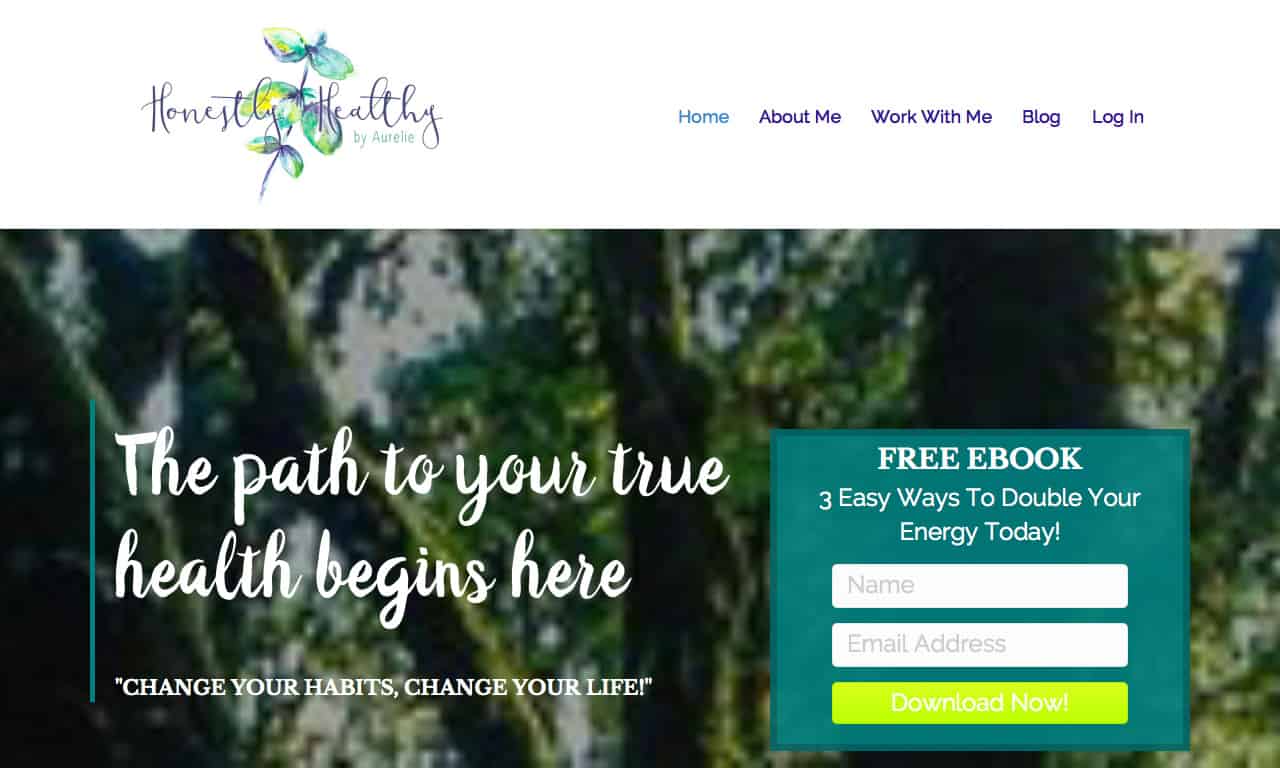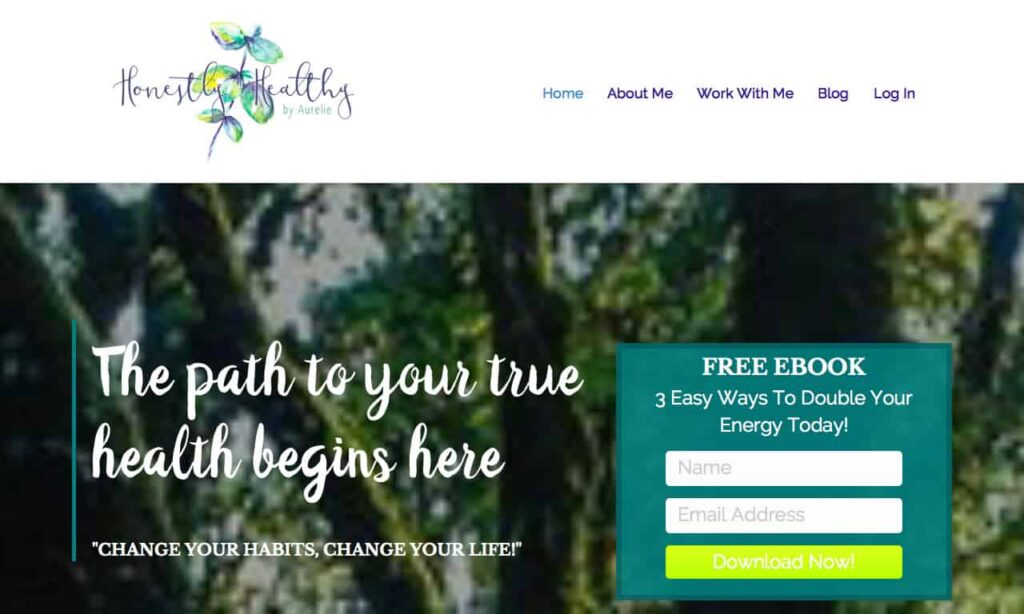 Aurelie's coaching site has a great design and personal, effective CTAs. Her homepage showcases client testimonials and free content, she clearly outlines the plans she has available for clients on her "Work With Me" page, and her bio is personal and compelling.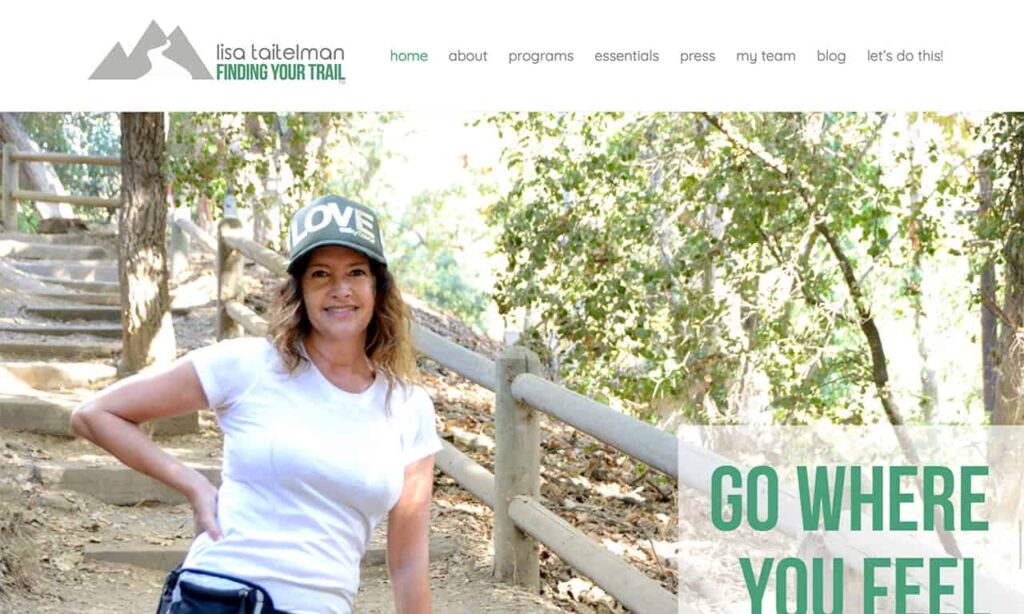 Lisa's site is really well designed and original to her. She includes many CTAs and makes great use of client testimonials. Her personality shines through and it's clear she has a great love of the outdoors, which will appeal to many prospective clients. Lisa employs a number of other great strategies on her site, including:
An "Essentials" page, where Lisa shares products she loves, like cookbooks, shoes, and her very own branded swag.

A "Press" page to share where she's been featured online.

A "Team" page introducing other members of her team.

An

active blog.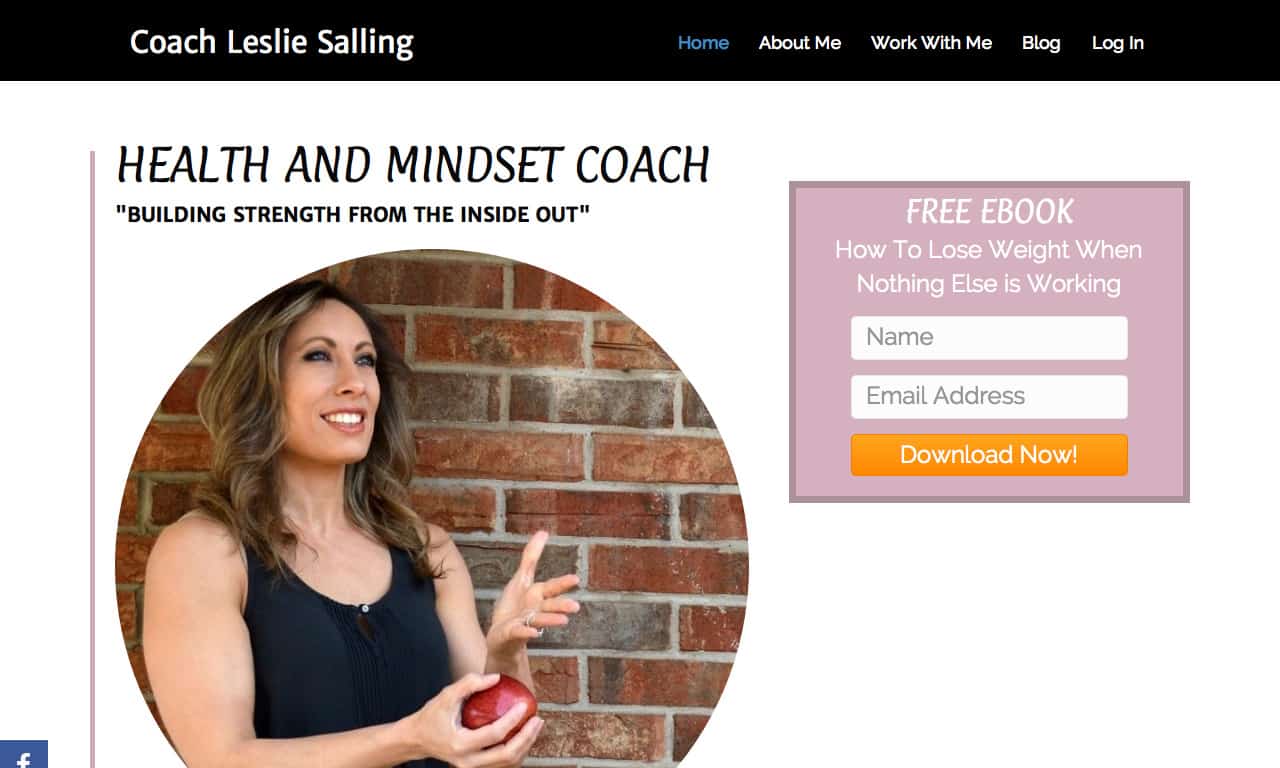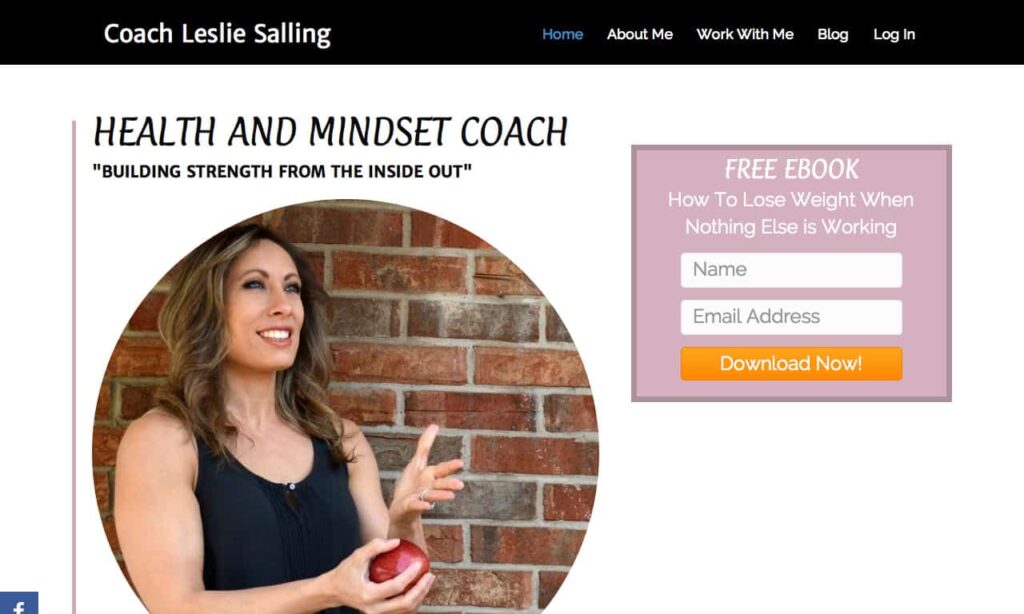 Leslie puts her free content front-and-center on her homepage to offer potential clients something of value and capture contact information. She uses her own personal story to clearly illustrate the impact Health Coaching can have on your life. She uses images to visually communicate the theme of strength in her messaging. Her website's design is easy to navigate, highlights her social platforms, and makes great use of compelling CTAs.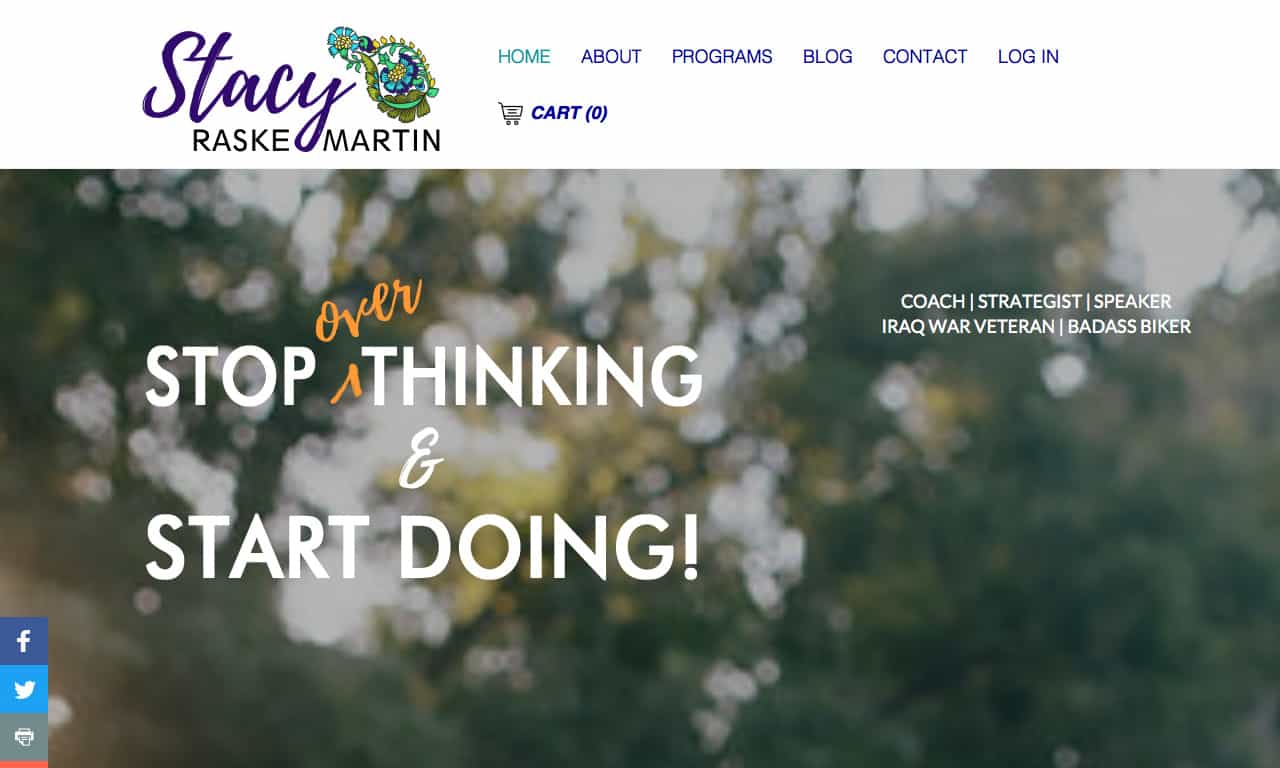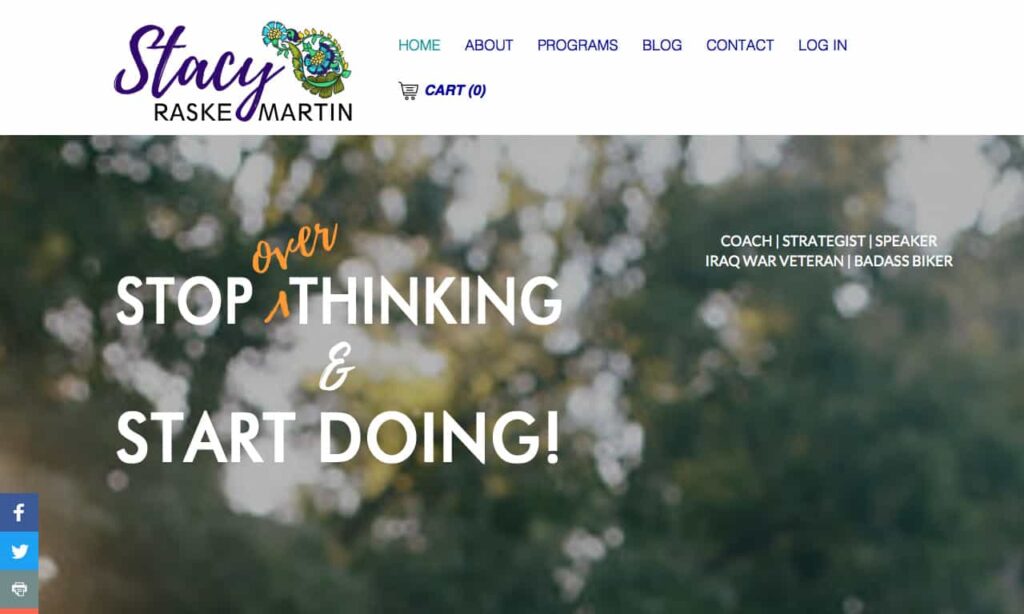 Stacy's website shouts her personality out loud and it's wonderful! From the picture of her on her motorcycle to her super compelling bio, Stacy's site is incredibly personal, while being fun and informative. Some other things Stacy's site does well:
It playfully calls attention to her free content ("Freebies").

It's easy to navigate.

It includes lots of CTAs to incite action from visitors.

It features strong, compelling client testimonials.
Your Health Coaching Website: We Can Help!
We hope these website examples have inspired you to create your own fun, stylish, and unique-to-you website! One of the perks of training with Health Coach Institute is that as a student, you can take advantage of our CoachLeads product, a customizable website platform designed specifically with Health Coaches in mind. Through CoachLeads, we work with our coaches to create stunning, professional websites that showcase their services and help them stand out from the competition.
If you're interested in learning more about training with Health Coach Institute, connect with one of our Clarity Coaches today!
MORE TO EXPLORE
You Might Also Like