Kela Smith is a graduate of our BHC Janurary 2018 class and a HMBA Mastery Student!
Check out what a day in Kela's life looks like below!

Hi, I'm Kela Smith and I am a Health and Life Coach.  I coach my clients on how to lose weight and get into the body they love without crazy diets or strenuous exercise.  My main focuses are working with women who are finding it difficult to lose weight after pregnancy as well as women who are struggling with infertility—to help them change their diets to help conceive a healthy baby.  I am a mom of two little boys, ages 2 and 5 and married to the love of my life.

You can find me on FB @kelahealthcoach and on IG @kela_healthcoach.  

Being a mom of two little boys it is difficult to find time to workout so I make sure I never miss it and go super early.  I start with a little warm up and then do my weight routine which consists of bi/tri, back/shoulder, butt or legs. I used to be a personal trainer so I know how important weight training is.  I usually lift pretty heavy because I know that is what will build my strong and well-defined muscles. Then, it's off to the cardio machines where I do 25-30 minutes on the stair climber. I love this machine because it builds beautiful legs and a shapely behind and also makes me work up a great sweat.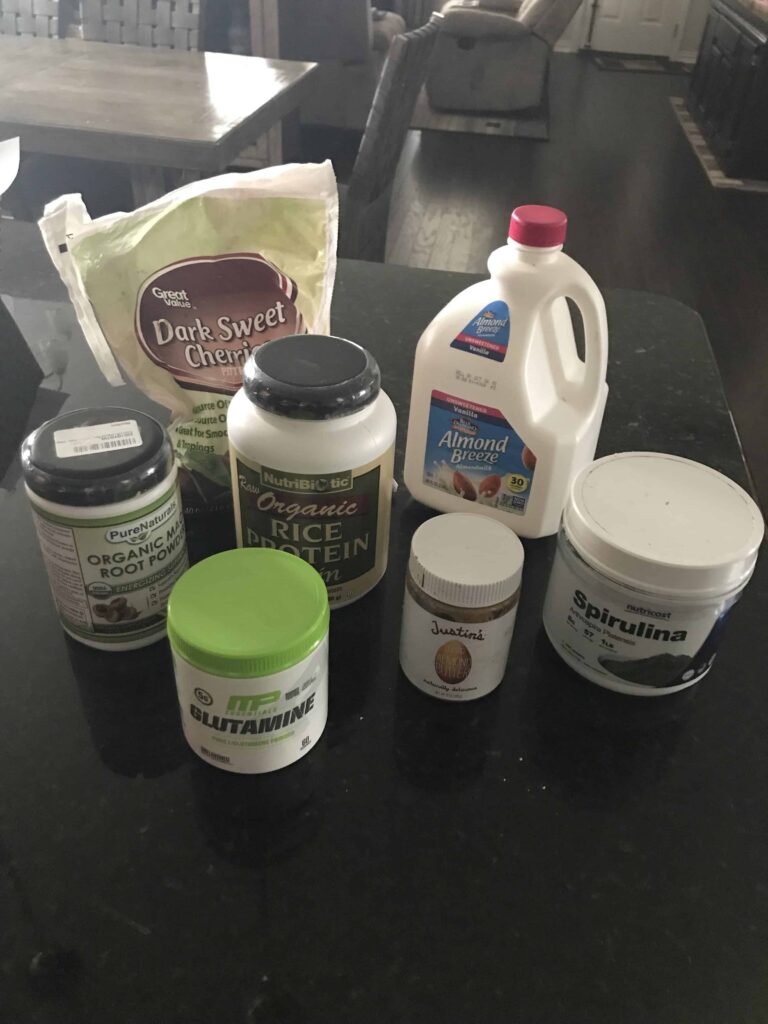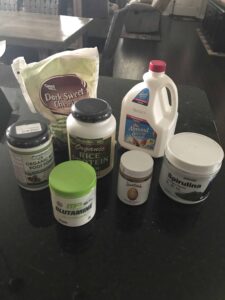 Next it's time for a healthy breakfast. My boys are super picky, but they love smoothies which they call milkshakes.  I usually do a detox cherry smoothie and make sure I add plenty of spinach, cherries, avocado, Maca root, Spirulina, chia seeds, pea protein, almond butter, ice and almond milk.  I went dairy free in January and love how I feel without the added hormones that you find in most dairy milks. This smoothie keeps me full till lunch and feeds my muscles and allows for growth.  My kids love this one too and my 2-year-old begs for it every morning. It's my way to sneak in fruits and veggies and he thinks he is having dessert for breakfast.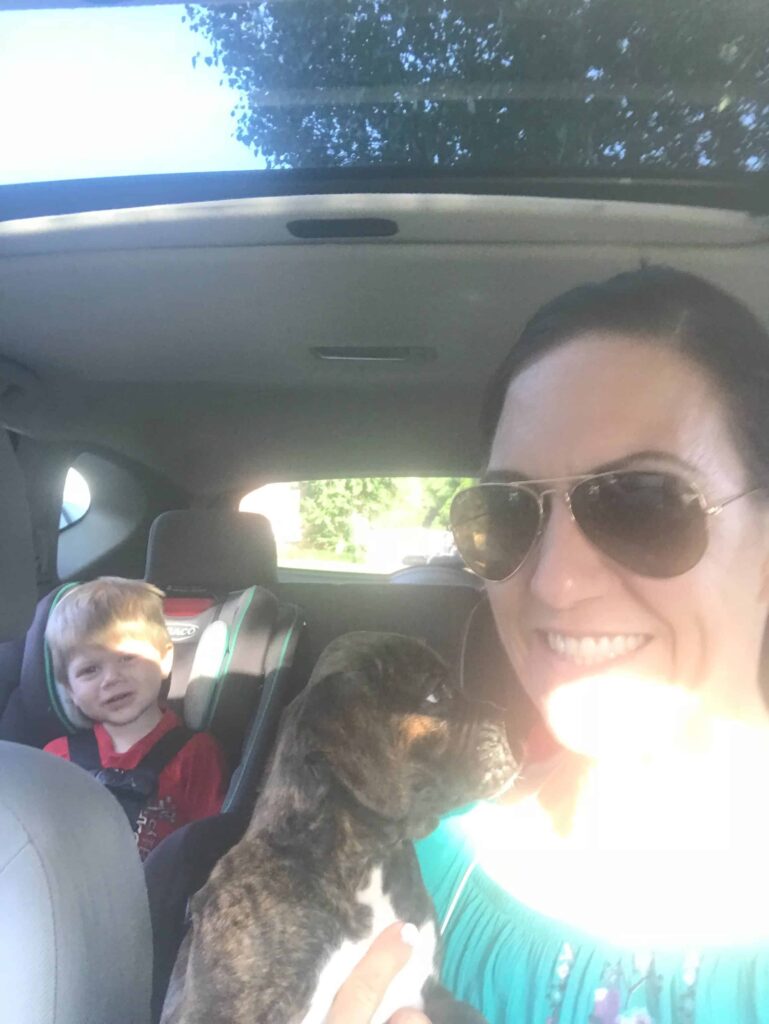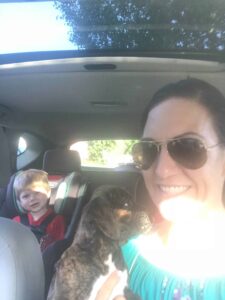 Then it is time to head to the sitter or school with my boys.  My 5-year-old just started kindergarten and loves it where my 2 year old goes to his in-home daycare.  We always take our little puppies, Sadie our new boxer pup and Bruzer our 13-year-old chihuahua. Every morning you will find us jamming out to a popular pop song and us dancing all the way there.  I am sure we get some strange looks but it's a great way to start the morning. Some of our favorite songs are, Wait a Minute by Rihanna (obviously the clean version), Bye, Bye, Bye by N'sync, or Thunder by Imagine Dragons.  

Once I drop the boys, I come back to my home office for client meetings.  I do a lot of 1-1 coaching over the phone and Skype but also do group coaching through my Facebook groups.  I am currently running the detox cleanse with a group of ladies and will do a few Facebook Lives to coach them on how to re-introduce the foods they have eliminated this week.  
I just remodeled my office and can not be happier with the results.  Now I have a big beautiful desk and can't wait to start decorating it.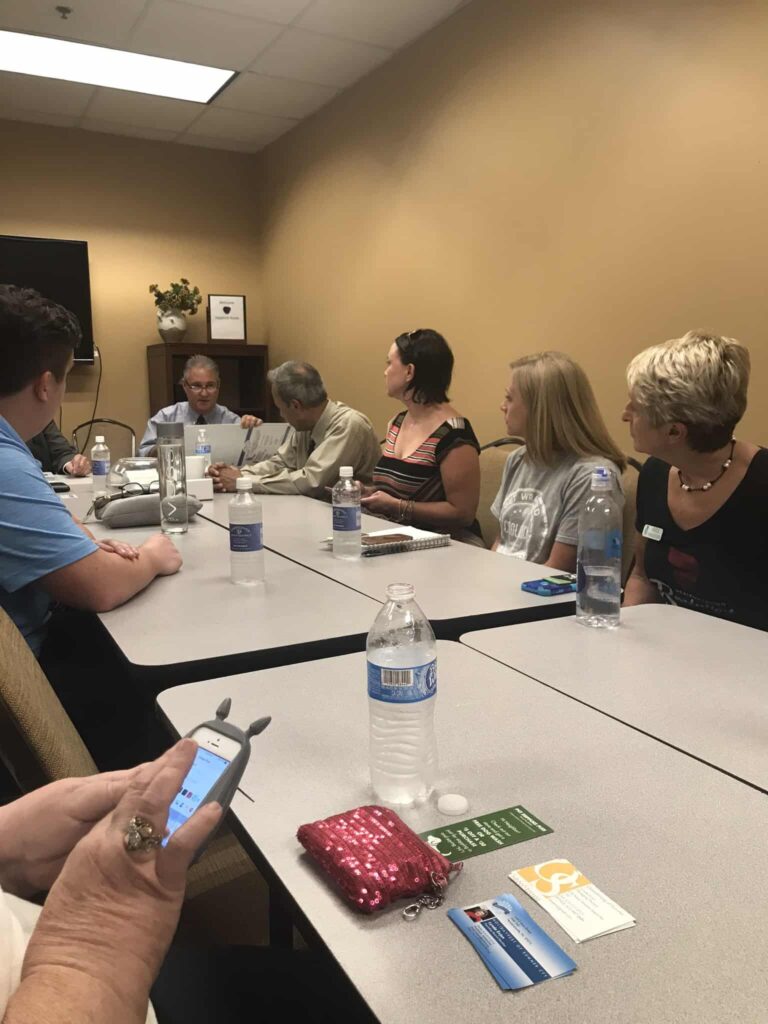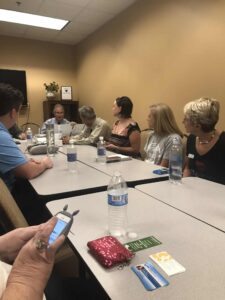 Mid-morning I head to a networking event.  I try to be really active in my community. I'm a member at both of my area Chamber of Commerce locations.  I have met some wonderful people at these events and highly recommend it to people trying to build their business.  
This was a leads event and I made a few new connections which I hope turn into clients.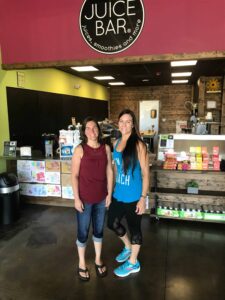 After my morning networking, I am famished and time to eat a healthy lunch at Juicebar with a friend and fellow Health Coach.  We will brainstorm our upcoming detox classes and put together a game plan for these events.  
I love working with other Health Coaches because I believe we all bring something valuable to the table and there are enough people in the world that need our help it is always great to collaborate with another coach that has a different specialty than you.  
I order my favorite green juice at Juicebar with a huge salad with protein.  I always make sure to have meals heavy in protein and healthy fats with a little slow burning carbs.  This will keep me satisfied and happy till dinner and help me power through the rest of my day.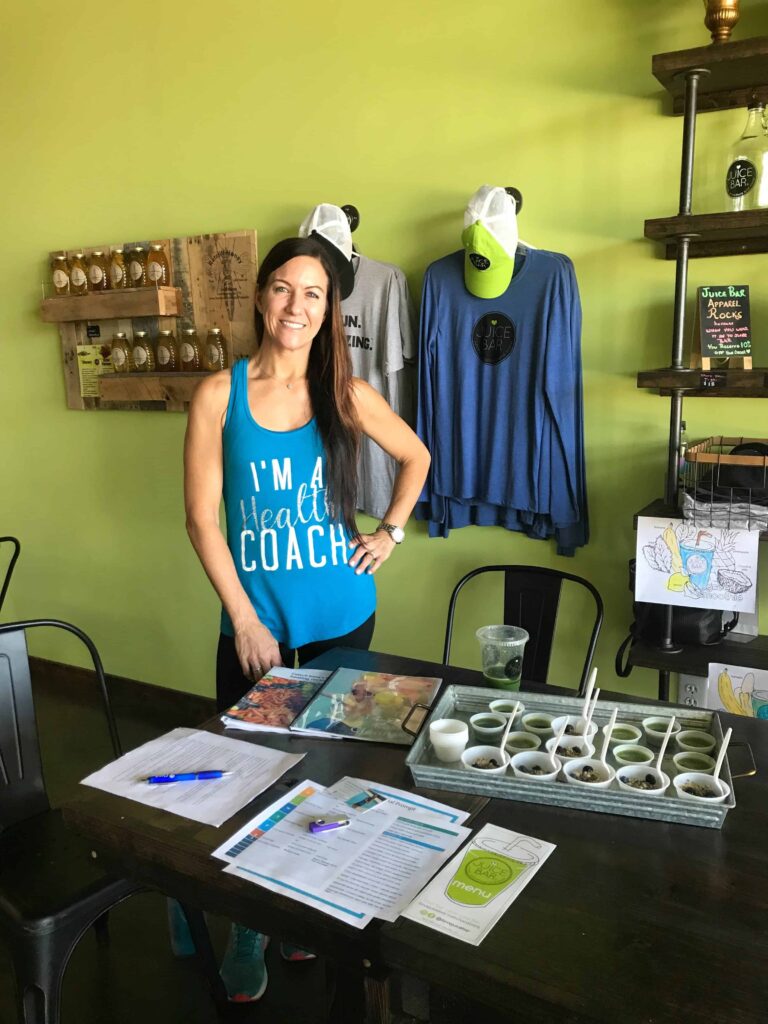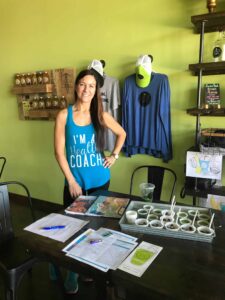 After lunch I am off to my detox cleanse class where I teach my clients how to detox with real food so they can heal their body from the inside out.  By doing this cleanse their energy will go up and their weight will fall off. I am a huge believer in the power of the body and do my detox class on myself at least once a season.  I love teaching classes because I get to reach a lot of people at one time and make a huge impact in their lives.

After class I go to pick up my kids and head home for some healthy snacks and playing in the yard.  Our go to snack is veggie sticks and hummus or a smoothie.  I feel it is so important to teach my kids how to make snacks that taste good but that are also good for them.  
My kids love to dip, so we experiment with all sorts of veggies and different flavors of hummus.  We also make our own sometimes and many of my recipes can be found in my cookbook. We also love to play in the yard with our pups and go for walks around our neighborhood.  This helps us burn some energy and spend quality time together away from the tv and Ipads.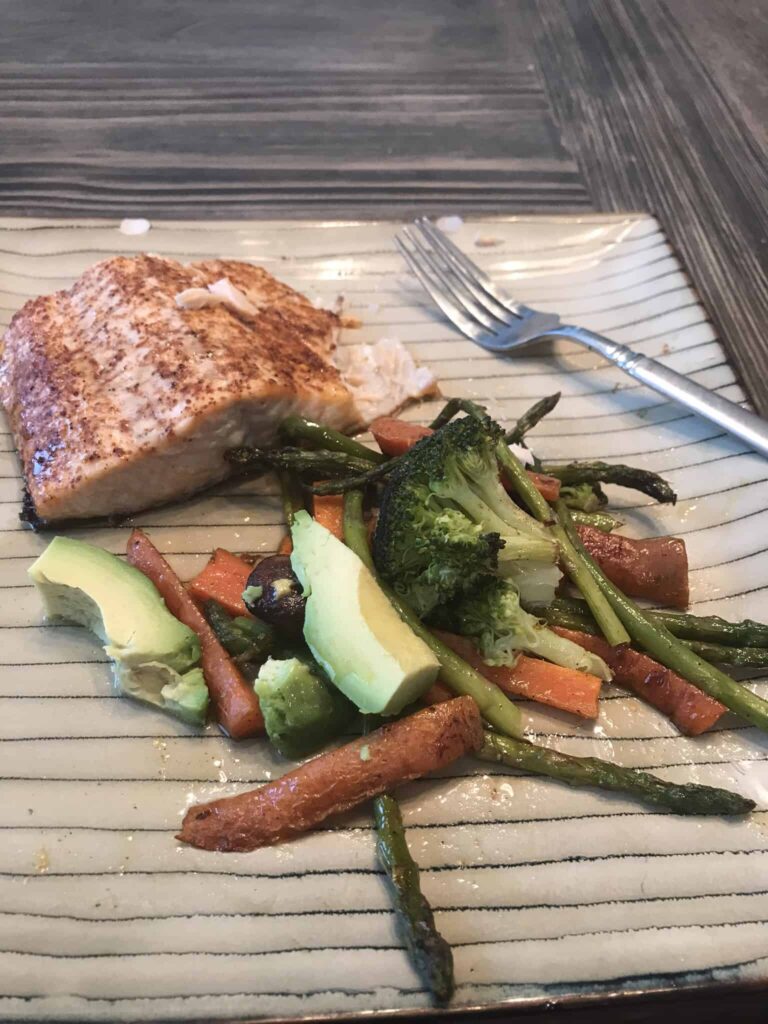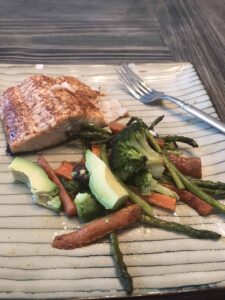 Time for dinner.  Tonight we are having baked salmon and veggies.  I love roasting veggies because it brings out their natural sweetness and is SO good for you. It is also the only way I can get my kids to eat veggies.   I usually do carrots, zucchini, broccoli, sweet potatoes, asparagus, and cauliflower. I chop everything and put in a gallon zip lock bag with 1 tbsp cinnamon, 1 tbsp pure vanilla, and 2 tbsp of grape or olive oil.  Bake on 450 for 20 mins. Top this with your protein of choice, 2 tbsp of nuts and seeds of choice, ½ chopped avocado, and some grape tomatoes. I also make a yummy vinaigrette to put on it which is 1 tbsp olive oil, 2 tbsp apple cider vinegar, 1 teaspoon mustard, and 1 teaspoon pure maple syrup, mix and use about 1-2T on your veggies.  Yum!
Time for bed and some alone time with my husband.  Sleep is so important especially because I get up so early.  I make sure our bedroom is an oasis and is a tech free zone.  We have a spa like mattress topper and blackout curtains.  I love climbing into bed and going over the day with my husband.  I will then read a little and drift off to sleep. The book I am reading right now is JJ Virgin's Sugar Impact Diet.  If you haven't read this, I highly recommend it.  It will help you cut sugar for good!

Want to learn more about Kela? Check her out on Instagram, Facebook or at her site: https://www.kelahealthcoach.com/
Want to hear more about becoming a Life Coach? Call: (213) 431-3578 
Become a Health Coach in 6 Months with Health Coach Institute

Coaching is a great career that you can help others, while also learning how to help your own personal growth. Health Coach Institute is a top health and wellness coaching certification program. Join our Become a Health Coach program and begin coaching in 6 months! If you are already a coach and want to advance your skills, check out HCI's Coach Mastery program.
Feel free to get in touch with with one of our clarity coaches directly, by calling 1-800-303-2399.