Our Favorite Self-Love Resources to Thrive in Life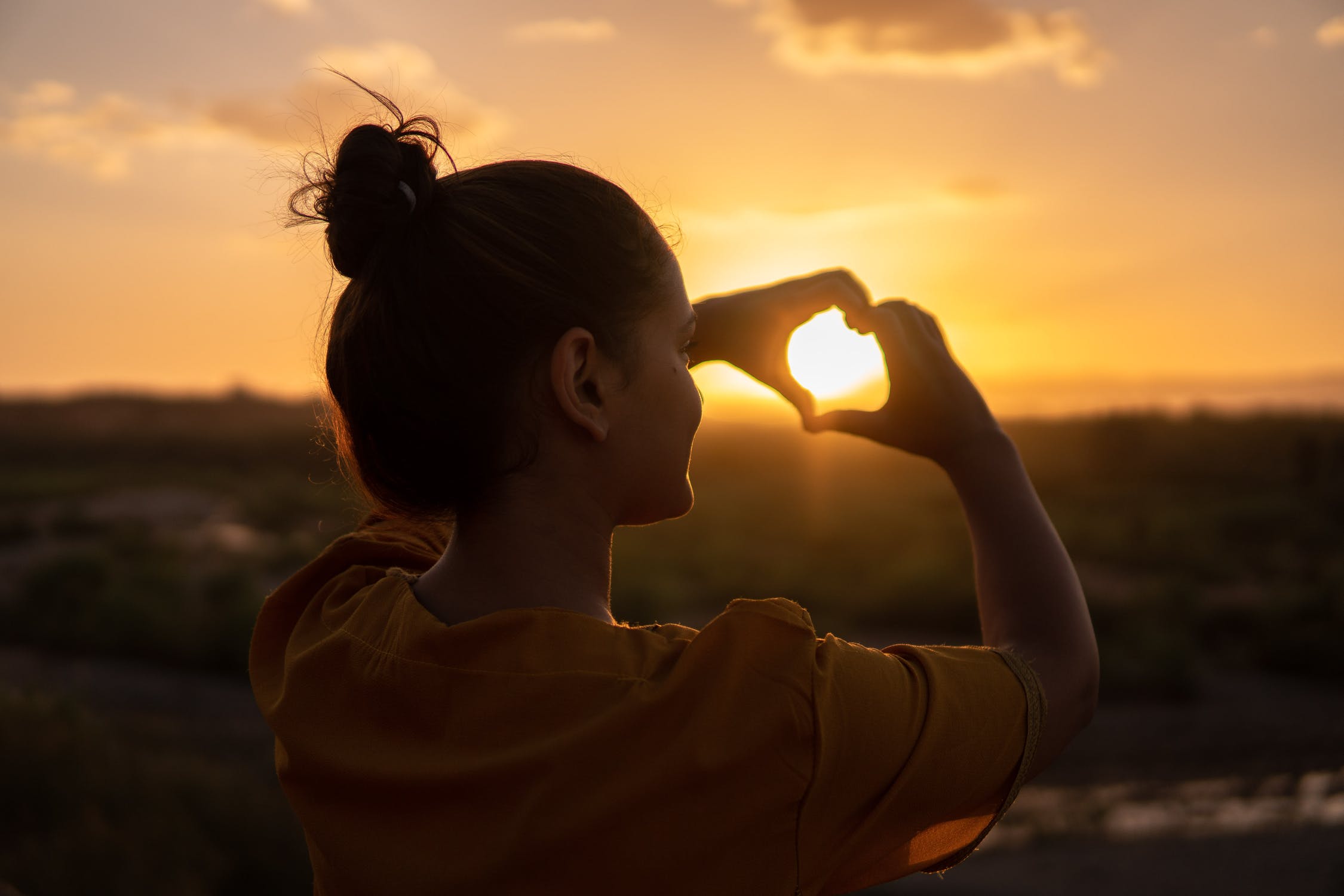 Actor Robert Morely once said, "To fall in love with yourself is the first secret to happiness." 
And at Health Coach Institute, we couldn't agree more. 
Self-love is the foundation upon which better-than-ever lives are built. It opens the door to more fulfillment in all areas of life and encourages your best self to emerge. 
That's why today's post is all about, you guessed it, how to cultivate self-love. We'll be talking about what self-love is and why it's important—plus, we'll be sharing our lead faculty's top five self-love habits, resources, and products for nourishing themselves in mind, body, and spirit. 
What is Self-Love?
Merriam-Webster defines self-love as "an appreciation of one's own worth or virtue" and "proper regard for and attention to one's own happiness and well-being". 
More simply put, self-love means knowing your worth and doing things that support your happiness and well-being.
We can practice self-love in a variety of ways, like:
Speaking kindly to ourselves (through affirmations, journaling, positive self-talk, personal love letters, etc.)

Nourishing our bodies with healthy foods and regular physical movement

Tending to our personal appearance

Keeping our living environment clean and organized (our physical spaces are an extension of ourselves, after all)

Making time for solitude and self-reflection

Prioritizing our sleep

Setting boundaries 

Honoring our commitments to ourselves

Making time for hobbies and the things that bring us joy

Scheduling regular checkups with doctors,

Health

/

Life

Coaches, and/or therapists to support our best physical and mental health

Investing in ourselves to further our education or advance our careers
As you can see from the examples above, self-love and self-care are very closely intertwined. In fact, self-care is one of the most powerful ways you can regularly show yourself love. In case you need more ways to treat yourself to some self-care, here are 60 ideas to get you started. 

Self-Love Psychology: Why Self-Love Is Important
When you love, value, and respect yourself and your needs, you're more likely to:
Make choices that nurture your physical, emotional, and mental health

Enter into healthy relationships with others

Be successful in your career and other personal endeavors

Experience happiness, contentment, and peace in your life (and less likely to feel stressed and anxious)

Engage in practices that support self-growth

Feel confident and attractive in your skin
When you love yourself, you're more self-aware of who you are and what you need to thrive in life. You accept yourself, flaws and all, and you embrace your imperfections. You don't need outside validation to feel worthy or justified in your decisions. 

How Can I Work On Self-Love?
Here are a few ways you can start cultivating more self-love in your life right now:
Squash Negative Self-Talk

: Begin by noticing harmful thought patterns that are limiting your potential, challenging your inner critic when it rears its ugly head, and

adopting a positive mindset

.
Kick Toxic Relationships to the Curb

: It's a lot harder to love yourself if you're surrounded by toxic people, so make a point to surround yourself with only positive people who love, support, and encourage you to be your best self. Building off of that, unfollow or "hide" anyone you're connected with on social that drains you or otherwise negatively impacts you.
Put Your Health First.

This means nourishing your body with healthy, energy-boosting foods, making regular time for physical activity, getting enough sleep, building white space into your day, and any other actions that support your mental and physical health. Because the truth is, if you feel like sh*t in your mind and your body, and you know you're not putting the effort into caring for yourself the way you should, loving yourself becomes a lot harder. 
Prioritize Self-Care

: As we mentioned above, self-care is a crucial part of loving yourself. Making time for self-care means that we think we are

worthy

of love, attention, and TLC. So make sure to set aside time in your schedule to do the things that light you up, make you feel good, and help you feel your healthiest.

Check out these 13 easy ways to fit self-care in when you're busy. 
Show Yourself Compassion:

Ditch the perfection mentality (it's the enemy of self-love), and realize that you're human and it's okay to make mistakes. In life, you

will

make mistakes, so it's important to get comfortable with that notion and to change the way you react to them when they happen. Instead of interpreting mistakes as a sign that you're a failure, view them as an opportunity to learn and grow. 
Live a Life True to You:

Don't hide the parts of you that are messy and imperfect, embarrassing or shameful. Don't fear the judgment of others (it says nothing about you and a whole lot about them). The

only

person you need to please is yourself. So live your life full out. Be unapologetically and authentically

you

. 
For more self-love techniques, download our Self-Love Worksheet. 
Our Co-Founders' Favorite Ways to Practice Self-Love
Now on to the fun part! HCI's co-founders, Carey Peters and Stacey Morgenstern have curated their top 5 self-love habits, resources, and products for tending to their personal health and wellness. 
Carey's Self-Love Favorites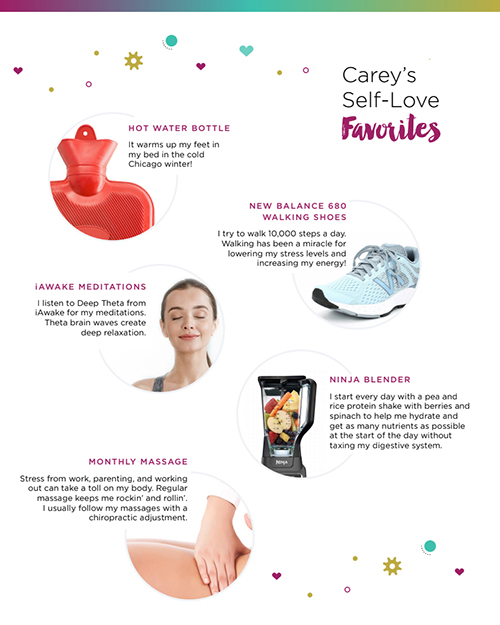 Stacey's Self-Love Favorites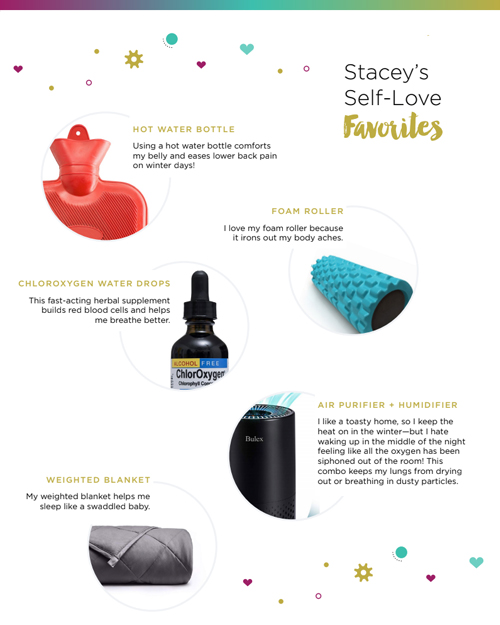 If you find self-love a challenge, we hope this article has given you some actionable insights and ideas to start cultivating a healthy self-love habit. Your better-than-ever self awaits! 
If you're interested in a career where you can help others live more fulfilling lives, our 6-month online Become a Health Coach program might be right for you. We offer one of the only dual Health and Life Coach certificates, so you'll have the skills to transform the most lives possible. You'll learn from Carey and Stacey (who have over 25 years of combined coaching experience), benefit from 1:1 mentoring, and be part of an amazing community 20,000+ students strong. Find out more about the program by connecting with a Clarity Coach today.   

MORE TO EXPLORE
You Might Also Like