A Great Take on a Dal Dish!
Dal is a renowned Indian dish made with dried pulses such as lentils, peas or beans.
To that you add as many or as little spices as you like. Plus, you can even throw in tomatoes or unripe mangoes to sweeten your dal. You can add less water and eat it with rice or you can add more water and eat it as a thick soup.
Dal can be as plain and bland as you like or as flavorful as any other Indian dish out there. This dal recipe that we're sharing today, keeps it simple but it's anything but dull!
Today's dal is made with split red lentils but you can use whatever lentils you like: French green, whole green or split yellow to name a few. Or you can use yellow or green split peas.
What's the difference between split peas and lentils? They're both legumes but split peas are grown for drying whereas lentils are pulses—the dried seeds of legumes. seeds are harvested and then dried.
Split peas are high in protein and fiber and low in fat and don't need to be soaked. The fact that they're split makes their cooking time much faster. The green ones are sweeter whereas the yellow ones are milder but more starchy. Try them both and decide which you like more.
Lentils, like split peas, are high in fiber and protein as well as calcium and vitamins A and B and super high in folate. Lentils too don't need to be soaked overnight. One of the greatest things about lentils is that they give you tons of energy while stabilizing your blood sugar levels because they are so packed with soluble fiber.
This dal soup makes an awesome lunch that'll take you 15 minutes to prepare!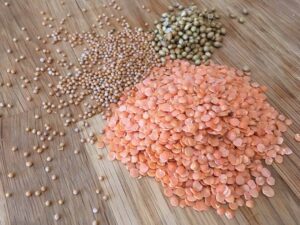 (split red lentils in the front, coriander seeds on the right and mustard seeds on the left)
Ingredients:
½ or ¾ cup split red lentils (depending on how thick you like your dal)
1 tbsp Coconut oil or ghee
½ onion (add garlic and ginger if you like too)
Mustard seeds
Coriander seeds
Curry, turmeric and/or cumin (all optional)
1 tomato (optional)
1 tbsp yogurt or keffir (optional)
Handful of cilantro
Remember, this dal is yours to play with. Add as much spice as you like or keep it simple and plain so your kiddos won't complain. Want it sweet? Add tomatoes. Want it spicy? Add masala curry spice. We like the unusual flavors of mustard seeds and coriander seeds so we'll go with that.
Instructions:
Dry roast the coriander and mustard seeds in a pan on low heat until they pop. Put them aside.
In a separate pot, fry the onion (and garlic and ginger if you're using it) in the coconut oil or ghee on a low heat for a few minutes.
Then add the red lentils and any other spices you feel like using. Add the tomato if you're using one or mango.
Keep stirring until all the ingredients are nicely mixed up.
Then add enough water so that it more than covers the ingredients. More if you're wanting more of a soupy texture.
Let it cook on a low heat for 15 minutes. Serve with our without yogurt or keffir and a sprinkle of cilantro.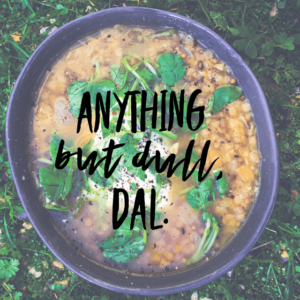 ---
Join Health Coach Institute and Become a Health Coach
Coaching is a great career that you can help others, while also learning how to help your own personal growth. Health Coach Institute is a top health and wellness coaching certification program. Join our Become a Health Coach program and begin coaching in 6 months! If you are already a coach and want to advance your skills, check out HCI's Coach Mastery program.
To find out more about Health Coaching, call  (877) 914-2242.