With spring in full bloom we're craving fresh, raw, organic veggies to mix in a salad so we turned to our BHC students for their personal twists on their fave recipe ideas and we loved this one from BHC grad, Julie Adams, 'cos it's also packed with protein.
High Quality Protein Rich Salad
Check it out…
Scrumptious Chicken Salad
5 Cups Rotisserie Chicken, pulled**
1 Cup Sliced Red Grapes
1/2-1 Cup diced Celery
1 diced Pink Lady, Fuji or Honeycrisp Apple
1/2 Cup Craisins
1/2 Cup Almonds, Pecans or Walnuts, chopped
3/4 to 1 1/4 Cup Plain 2% Greek Yogurt OR Homemade Mayo (See my recipe below) half and half (If you like a runnier salad, do 1 1/4 cup)
1 Tbs. Dijon
1 Tbs. Lemon Juice
1 1/2 Tbs. Fresh Basil, julienned
1 1/2 Tsp. Black Pepper
1 1/2 Tsp. Salt
1 Tsp. Fresh Garlic, minced (optional)
In a large mixing bowl, mix yogurt with the Dijon, lemon juice, basil salt, pepper and garlic (if using).
Add the remaining ingredients and gently toss with a rubber spatula until all ingredients are fully coated.
Taste and season accordingly!
Serve on toasted sprouted bread, on a bed of mixed greens or scoop with corn tortilla chips!
Bon Appetit!
NOTE: This recipe yields 8-10 generous servings and thus, is a nice thing to make ahead for your week's meals or snacks. It's delightfully fresh and flavorful, lasting up to four days refrigerated.
**Rotisserie chicken is a fantastic, easy way to go as it's already seasoned and cooked perfectly. I get mine at Costco for $5. Simply pull and discard the skin and bones and voila!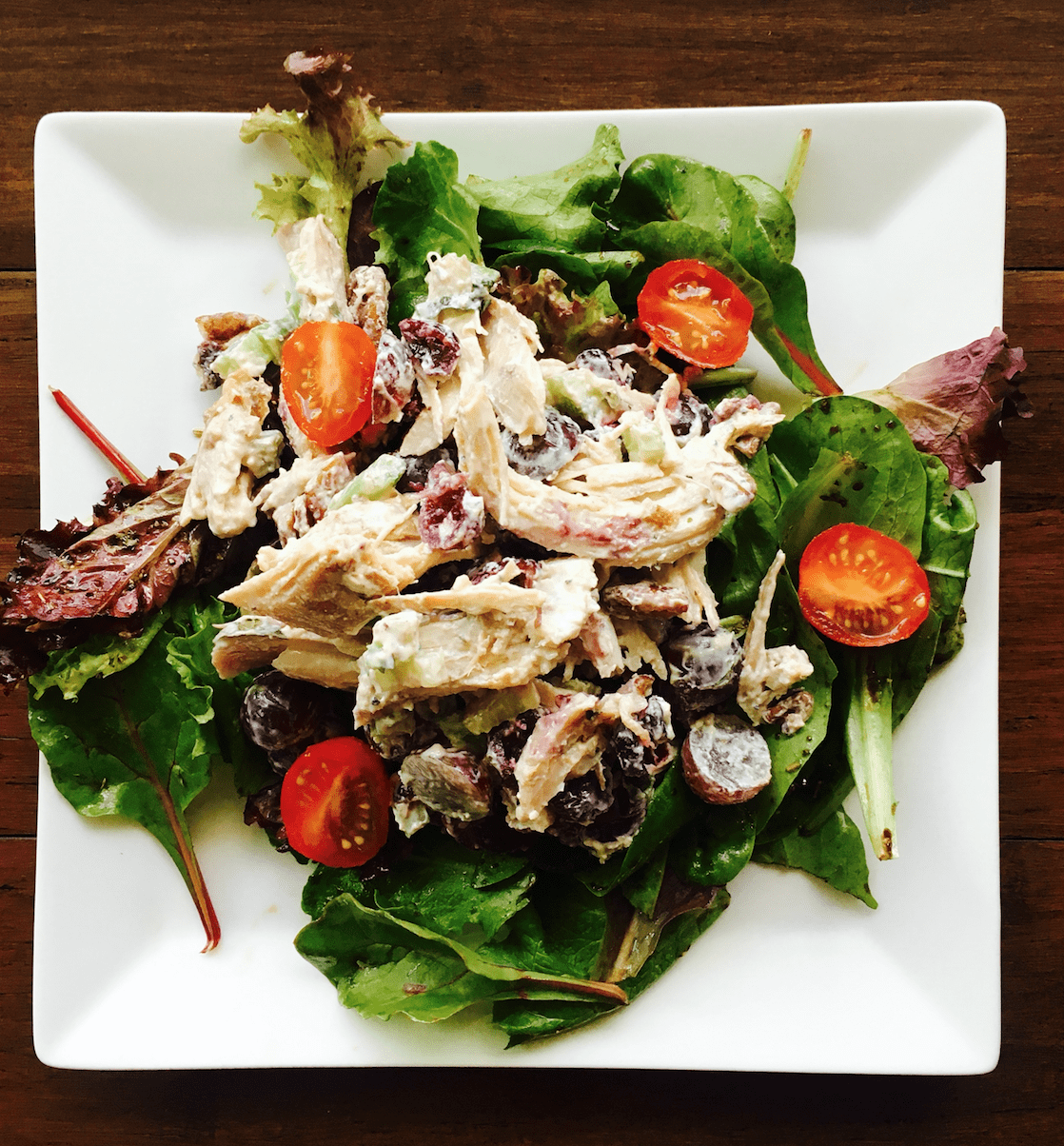 And if you're a mayonnaise lover and just can't have your chicken salad without it, you'll love my healthy, homemade mayo recipe!
Healthy Mayonnaise
1 Egg Yolk
1 Tsp. White Vinegar
1/2-1 Tsp. Dijon Mustard (depending on how strong you like it)
1 TBS. Fresh Squeezed Lemon Juice
3/4 Cup Extra Virgin Olive Oil
1/2 Tsp. Salt
Place egg yolk, vinegar, mustard and lemon juice in blender and turn on lowest speed; with blender running, slowly (I mean SLOWLY) begin to pour olive oil in and continue pouring until all of the oil is incorporated. (It should take 60-90 seconds if you're doing one batch.)
*Note: it will spatter and look too "thin" for the first thirty seconds of you pouring the oil in, but after about 1/2 cup of oil is added, it will begin to thicken and emulsify. Keep pouring until all is incorporated!
After oil is in, add salt and blend two more seconds… Voilà! Homemade mayo!
Enjoy in dips, dressings, on sandwiches etc.!
Feel free to add your favorite seasonings and herbs to make aiolis as well.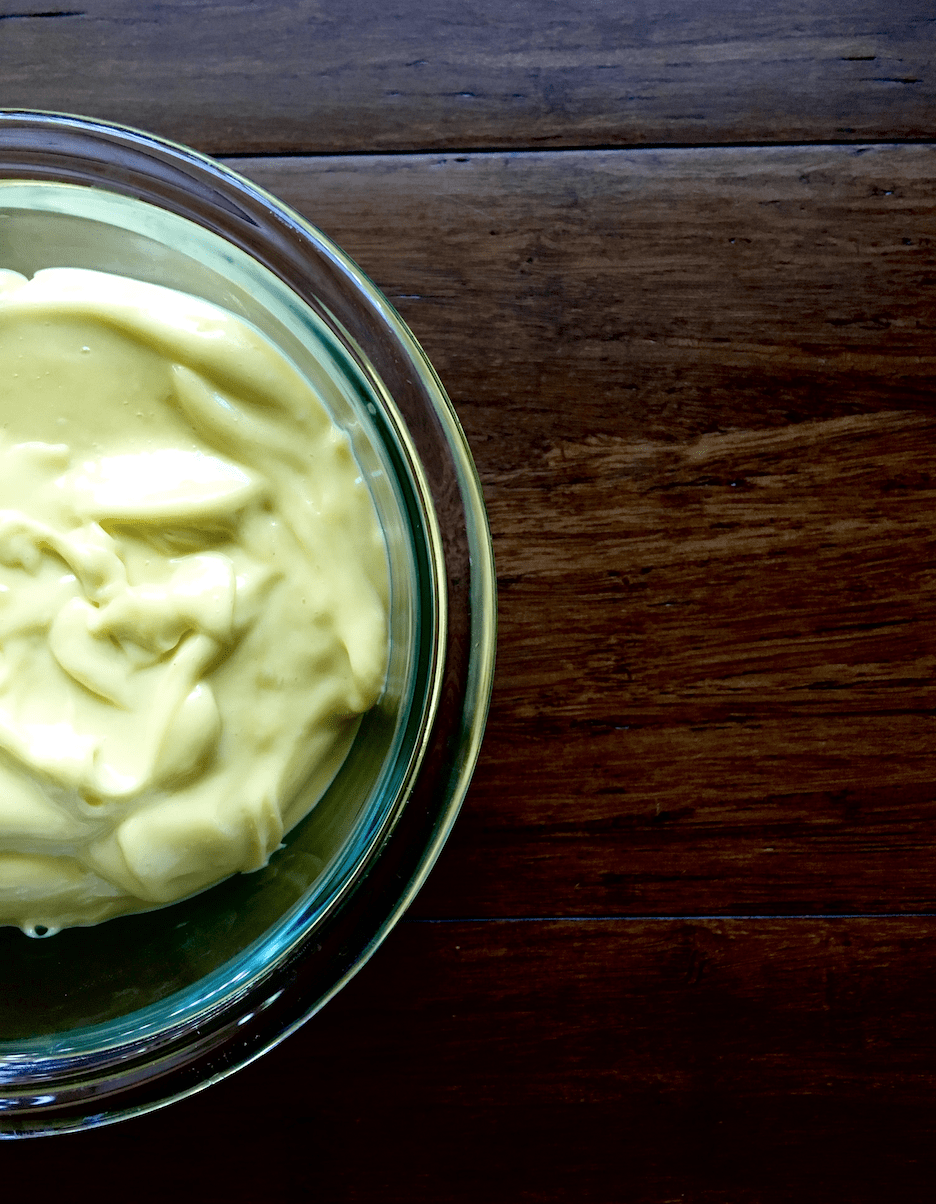 About Julie: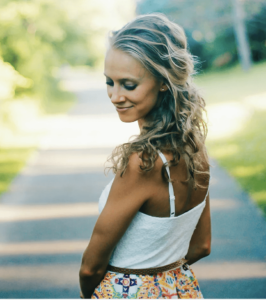 Julie Adams is the founder of Thrive90 Transformational Coaching, as well as a culinary school and Health Coach Institute graduate. Born with a love for cuisine and nutrition, Julie believes food is medicine and that how we use it makes all the difference in how we feel and look, and greatly impacts our quality of life.
"I wanted to do more than just nourish people with food so when I discovered HCI's website and, after thorough investigation, it was settled. Health Coaching was my newfound passion. To be able to use my skills as a chef and combine that with lovingly guiding people to their purpose, while achieving a healthy relationship with food and body, sounded too good to be true. I've learned invaluable information and have grown so much myself through BHC's nutrition, personal growth and transformational coaching methods." 
I keep pinching myself, wondering if it's all a dream but it isn't… this is my life and I am so honored and excited to live it.  — Julie
_____________________________________
Start Your Health and Wellness Coaching Career with HCI
Coaching is a great career that you can help others, while also learning how to help your own personal growth. Health Coach Institute is a top health and wellness coaching certification program. Join our Become a Health Coach program and begin coaching in 6 months! If you are already a coach and want to advance your skills, check out HCI's Coach Mastery program. Feel free to get in touch with with one of our clarity coaches directly, by calling 1-800-303-2399.