Hey, hey, in celebration of National Donut Day on June 1st, we decided to keep you in the loop (get it?;) with a healthy (um, yes, healthy!) donut recipe that is gluten-free, vegan and CHOCOLATEY deluxe!
Just because you're a health nut, does not mean you have to altogether forgo your donut cravings, now does it? Here's to having your donut and eating it too! Goodbye trans fat laden, greasy donuts and hello donuts that'll feel good in your belly and to your mind. Yum!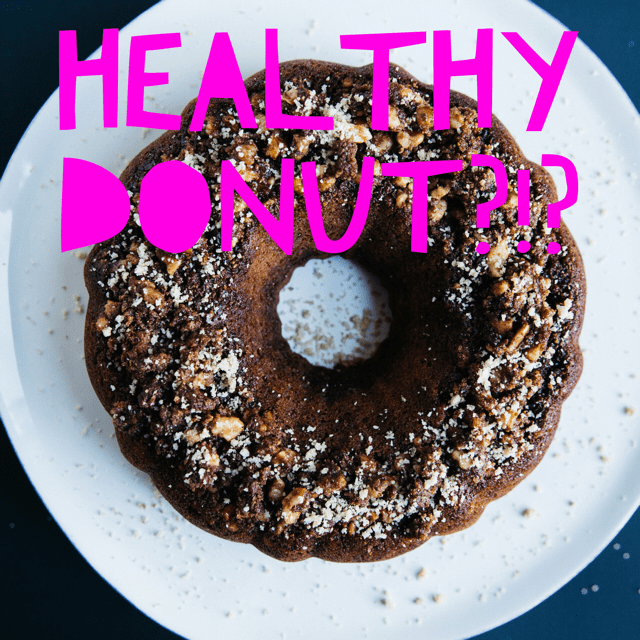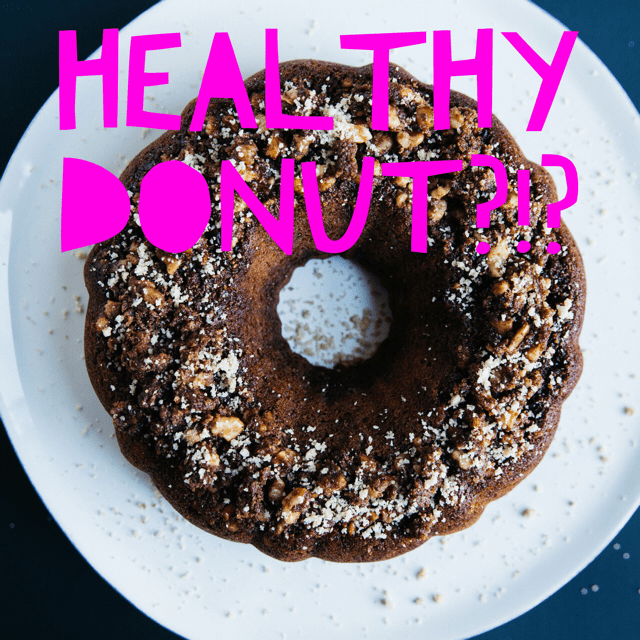 Chocolate Donuts (Vegan + GF)
Prep time: 10 mins
Cook time: 20 mins
Serves: 12 donut lovers
INGREDIENTS: 
DONUTS
1/4 cup (60 ml) aquafaba* (the liquid in a can of chickpeas)
1/2 cup (120 ml) unsweetened plain almond milk (warmed in the microwave or on stovetop)
1/4 cup (60 g) melted coconut oil
1/3 cup (63 g) organic cane sugar or coconut sugar (donuts are fluffier with cane sugar)
1/4 cup (60 ml) maple syrup or agave nectar
1 tsp pure vanilla extract
1/4 tsp sea salt
1/3 cup (80 g) unsweetened applesauce (or other hearty fruit puree, such as beets)
2 tsp baking powder
1/2 tsp baking soda
3/4 cup + 1 Tbsp (70 g) unsweetened cocoa powder (if clumpy, sift)
3/4 cup (140 g) almond flour*
1 cup + 2 Tbsp (180 g) gluten-free flour blend*
GLAZE optional
3 Tbsp (45 g) coconut oil, melted
1 Tbsp (15 ml) maple syrup
5 Tbsp (28 g) unsweetened cocoa powder (if clumpy, sift)
Pinch sea salt
1/4 tsp vanilla extract
INSTRUCTIONS: 
Instructions
Preheat oven to 375 degrees F (190 C) and lightly grease two donut pans*.
To a small mixing bowl, add aquafaba and use a mixer (or whisk) to vigorously blend until soft peaks form – about 1-2 minutes. Set aside. (If yours doesn't quite whip up into soft peaks, it's OK. Just get them as fluffy as possible! A sprinkle of cream of tartar helps them firm up.)
Warm almond milk in the microwave. This way, it doesn't harden the coconut oil. Set aside.
To a large mixing bowl, add the melted coconut oil. Then add the coconut sugar, maple syrup, vanilla extract, and sea salt and whisk vigorously to combine – about 45 seconds. Then add applesauce and warmed almond milk and whisk once more to combine.
Add baking powder, baking soda, cocoa powder (sifted if clumpy), almond flour, and gluten-free flour and whisk to combine.
Lastly, add the whipped aquafaba and gently stir/whisk in, trying to be as gentle as possible. If the batter appears too thin at this point, add 1 Tbsp each almond flour or gluten-free flour at a time until it thickens up. It should be semi-thick and more scoopable than pourable.
Divide batter evenly between donut tins, filling all the way full. There should be 11-12 donuts.
Bake for 18-20 minutes or until a toothpick inserted into the center comes out clean and the top appears dry and fluffy. Time will vary if you sub ingredients.
In the meantime, make glaze (optional). To a small mixing bowl, add melted coconut oil, maple syrup, sifted cocoa powder, salt, and vanilla extract. Whisk to combine. You should have a slightly thick glaze. If too thick, thin with a little maple syrup or more coconut oil. If too thin, add cocoa powder.
Taste and adjust sweetness if needed by adding more maple syrup. Set aside. Prepare any other toppings, such as coconut flakes, cacao nibs, or sprinkles, at this time.
Remove donuts from oven and let cool for 1-2 minutes. Then grab the tins with a towel and tap on the counter 2 times to loosen. Then gently invert onto a cooling rack. Let cool for 5 minutes (the longer they cool, the more they'll firm up).
Dip in glaze. Then top with desired toppings, such as sprinkles, coconut flakes, or cacao nibs!
Best when fresh. Store cooled leftovers covered at room temperature up to 3 days or in the freezer up to 1 month (best if stored unglazed).
Notes
*Aquafaba is the "egg" in this recipe. Alternatively, you can try subbing 1 1/2 
flax eggs
 (or 1 small egg if not vegan).
*I've been preferring 
almond flour
 over almond meal because it yields a lighter, fluffier (less dense) baked good. But you can try subbing almond meal. Or, if you have a nut allergy, try subbing a 1/2 +1/2 mix of GF flour and oat flour.
*If not gluten-free, sub the GF blend for all-purpose flour. I haven't tested it this way and can't guarantee the results.
*If you don't have donut pans, you can try baking these in a standard muffin tin! Fill slightly more than 1/2 full and bake for about the same amount of time or until a toothpick in the center comes out clean.
*Recipe adapted from my 
Vegan Gluten-Free Chocolate Cake
.
*Nutrition information is a rough estimate for 1 of 12 donuts without the glaze.
Nutrition Information
Serving size: 1 donut of 12 without glaze Calories: 214 Fat: 5.3 g Saturated fat: 5.3 g Carbohydrates: 27 gSugar: 9.1 g Sodium: 50 mg Fiber: 3.8g Protein: 4.2 g
WHEW…now that's a mouthful! But if you're wanting quality, healthy donuts, you gotta be prepared to do it a little differently. Ok, a lot differently. 
*** This recipe is from Minimalist Baker: www.minimalistbaker.com
______________________________________________
Start Your Health and Wellness Coaching Career with HCI
Coaching is a great career that you can help others, while also learning how to help your own personal growth. Health Coach Institute is a top health and wellness coaching certification program. Join our Become a Health Coach program and begin coaching in 6 months! If you are already a coach and want to advance your skills, check out HCI's Coach Mastery program. Feel free to get in touch with with one of our clarity coaches directly, by calling 1-800-303-2399.