Warm Belly Squash Stew-Soup Recipe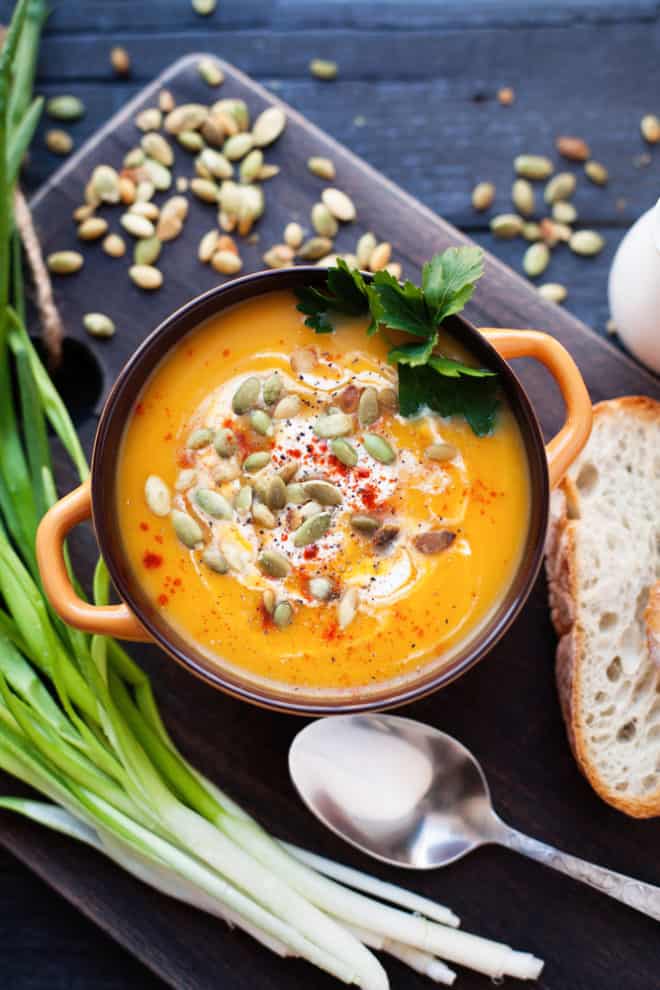 Holiday stews and soups don't need to be made with dairy and flour or some béchamel variation and thickened with cornstarch or heavy cream to appear tasty while making your stomach churn.
This dairy-free, hearty, seasonal soup, which is part stew and part soup, is ideal around Halloween as the weather drops and you start to crave food that warms your belly. It's so good that everyone will love it and want to eat more of it throughout the rest of the fall and winter!
Prep time: 25 minutes
Cook time: 30 minutes
Servings: 4
---
WARM BELLY SQUASH STEW-SOUP RECIPE
INGREDIENTS:
2 leeks (pick ones that have thick white stems)
1 garlic clove
2 serrano chilis
2 Tbsp fresh ginger (finely chopped)
1 Tbsp curry powder
3 Tbsp tamari (wheat-free soy sauce)
1 tsp brown sugar
1 can unsweetened coconut milk
2.5 lbs pumpkin or butternut squash or kabocha
1 lime
1 cups cashews (optional)
1 Tbsp coconut oil
---
INSTRUCTIONS:
Halve the leeks lengthwise and cut into 1/4 inch pieces. Wash well in a bowl of water, then drain.
Heat the oil in a wide soup pot.
Add the leeks and cook over fairly high heat, stirring frequently, until partially softened (about 4 minutes).
Add the garlic, ginger and chilis and cook for another two minutes.
Then add the curry, brown sugar, and tamari sauce.
Reduce the heat to medium, stir in ingredients and cook for a few minutes more.
Add 1.5 cups water, coconut milk, squash, and 1 tsp salt.
Bring to a boil, then lower heat and simmer covered for 25 min.
Meanwhile, heat oven to 325°F. Spread cashews on a sheet pan. Toast for 8-10 minutes or until lightly browned.
Serve stew in bowls, topped with toasted cashews.
Leave a comment below and tell us if your squash stew soup warmed your belly! 
Wanna find out more about becoming a Health Coach? Call (877) 914-2242!
MORE TO EXPLORE
You Might Also Like