7 Steps To Health Coaching Success: A Profitable Business Roadmap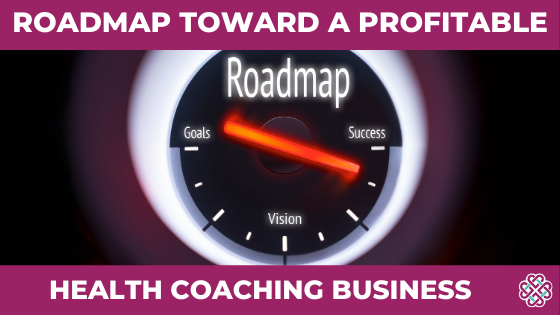 Becoming a health coach already holds plenty of benefits, not just in your career and financial progress, but most importantly in your holistic personal growth.
Now, imagine these benefits multiplied when you build your very own health coaching business.
What Does It Take To Have a Success?
However, as promising as this sounds, having your own health coaching business requires a hefty amount of determination and passion. There can be challenges along the way that could discourage you from pursuing your goals.
The good thing is the process can be a little smoother if you know exactly what milestones to aim for. A clear path towards entrepreneurship is essential to guarantee your success.
7 Steps To Build a Profitable Health Coaching Business
If you're wondering how you can ultimately build a profitable health coaching business, look no further.
Here are 7 simple steps to get you started:
Complete an

Accredited Health Coaching Course

Establish a Network with Successful Health Coaches

Create a Business Plan

Develop a Marketing Strategy

Set up your Website

Find Your First Clients
1. Complete an Accredited Health Coaching Course
If you are starting from scratch, naturally, the first thing you need to secure is completing a health coach training program from an accredited organization or institution.
Online courses are proliferating nowadays.
However, in selecting the program that could guarantee a workable path to a successful health coaching business, it is imperative to consider the accreditation that the course holds.
Health Coach Institute's Become a Health Coach (BHC) program is Continuing Coach Education (CCE) accredited* by the International Coach Federation (ICF). Both the Health Coach and Life Coach portions of the training have been reviewed by ICF and have been given program accreditation approval via the CCE designation.
Learning the fundamentals of health coaching is the groundwork for the career you're aiming for.
Clearly, all courses on health coaching cover the basics of the practice but not all programs introduce instructions on how to design a pathway towards a profitable health coaching business.
2. Get Your Health Coach and Life Coach Certificate
Most Become A Health Coach Training Programs only award you a Health Coach Certificate upon completion of the program. Health Coach Institute's Become A Health Coach program offers a dual certificate for Health Coach AND Life Coach upon completion.
Getting certified as a Health coach increases your reputation and reliability in the field. It is a necessary step if you are committed to further monetize your health coaching practice. In addition, having the dual certification opens doors of opportunity that other courses just don't offer.
3. Establish a Network with Successful Health Coaches
A business, after all, depends heavily on people.
In this sense, a health coaching business relies on the kind of relationship you have not only with your clients but with other practitioners in the field. And in the business world, networking can be a game-changer.
As a health coach, you opt to establish a healthy relationship with those who have already established themselves in the profession.
It gives you access to learning strategies and industry secrets that can catapult you into a successful health coaching career. Not to mention, you can get more referrals and get your name out there.
The Health Coach Institute community offers you the ability to connect with a like-minded community 20,000 strong via online groups and live networking events. Your peers will support, stretch, and encourage you to build the career and life of your dreams.
4. Successful Coaches Create a Business Plan
After gaining enough experience, your NBHWC certification, and reputation in the field, you can now officially start your own health coaching business.
Having a private practice opens more doors for personal and financial growth. However, it is easier said than done.
Venturing into entrepreneurship has its own hurdles not suitable for the faint-hearted. This is why you need to have a strong business plan to keep you on track.
What exactly is a business plan?
Your business plan contains your specific targets and the corresponding actions you need to accomplish so you can materialize those targets.

It encompasses your SMART goals, budget allocations, marketing strategies, and revenue projections.
Health Coach Institute will also give you the tools and resources you need to create your business plan specific to a successful Health Coaching business.
5.
Develop a Marketing Strategy for Your Coaching Practice
Even before you launch your business, you absolutely need to develop a viable marketing strategy that attracts your target clients.
To market your health coaching business, you need to study where your target market spends most of its time.
If your target market constitutes career-driven millennials, you can explore social media sites or common places that appeal to this demographic group.
Although digital marketing is all the rave nowadays, we cannot discredit the effectiveness of traditional marketing such as word of mouth or referrals. The latter becomes even more effective if you have built your credibility in the field.
Health Coach Institute will give you a successful Health Coach Business Marketing plan to build from.
6. Set up Your Website
Now more than ever, building a health coaching business is not only in demand but can easily be set up online.
You can meet clients through virtual meetings and follow-up via online private messaging.
How exactly do you do it?
Easy, set up your website, and work your way to becoming an authority in the field. Your own website is beneficial in the following ways:
It boosts your credibility

It increases your chance to get more leads

It makes communication more efficient

It expands your digital marketing
There are many ways to create your website.
You can go to Google My Business if you wish you start with a free platform. But if you want an even more professional looking website, you can always hire an expert to take over this step.
Regardless of which way you take, a website will increase your value as a committed health coach.
7. Find Your First Clients
When all the logistics are set, you are now ready to welcome your first clients. At this point, your marketing strategy should come into play.
It is perfectly natural for this step to harbor some challenges. You must remember that you are still starting up with your business, hence, do not feel discouraged if you aren't inundated with clients on day one.
Nonetheless, you can always try the following tricks:
Conduct a workshop

Connect with your previous clients

Network with doctors and other healthcare professionals for referrals

Join online forums or social media groups

Offer a free discovery call to your potential clients
Attracting clients for your online health coaching business on a monthly or weekly basis requires consistency.
Your commitment to a successful transformation can always be sensed by your clients. If this truly comes through, you can establish a long-term client-coach relationship that can expand your private practice.
Final Thoughts On Building A Profitable Health Coaching Business
To become a board-certified health coach requires first and foremost a real passion for helping other people.
Although the promise of a lucrative career can become a reality, you will have to maintain strong mental stamina, drive, and determination to do so.
Luckily, you are in the same career that strengthens not only your physical health but your mental wellness as well.

If you wish to take your career in healthcare to another level, the health coaching track will be perfect for you.
Health Coach Institute offers an accredited health coach training program that also includes marketing and simple business systems.
You can launch your career and develop the right skills for a profitable health coaching business.
Join Health Coach Institute to Learn How to be a Successful Health Coach
Health Coach Institute offers a variety of coaching programs for health minded individuals. Learn how to help others and earn a great living in a rewarding career. Contact a consultant with HCI to get started on your education in health coaching!