Being a successful coach—whether you're focused on health, life, wellness or nutrition—is about more than just getting a certification from the Health Coach Institute (or any other accredited coaching school). It's about finding your "why," building your brand authentically, and having a clear vision of the type of people you'd like to help.
We're chatting with three successful, working health coaches to get their insights, inspiration and top tips for running a coaching biz.
Anthony Trucks
"Make shift happen"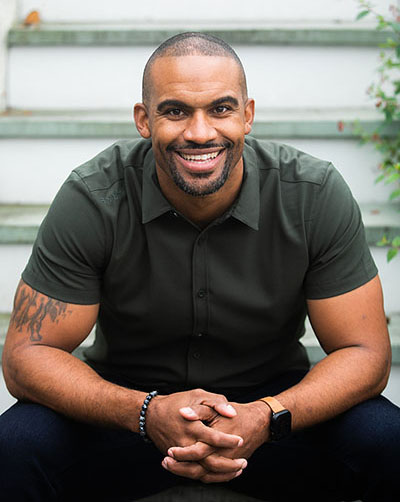 Anthony Trucks is a former NFL player-turned-transformational identity shift coach. He believes the secret to reaching your full potential is through a shift in your core identity, rather than a change in your mindset. Trucks has been featured in the Wall Street Journal, on American Ninja Warrior, and was named one of Success Magazine's 125 in 2022.
What inspired you to start your health coaching career?
I had an adoptive mom who changed my life by simply being a present, unconditional, loving heart when I needed it most. Before she passed I made a promise to honor her by doing the same unconditionally for the world. It led me to coaching and being able to do something I love, that people love that I do.
What is your coaching style?
I am a bipolar, based-on-you kind of coach. My go-to is calm, fun, and looking to move you forward by poking on the intrinsic driver you have owned up to when times get tough. When I notice that isn't enough I scale in stages, up to the drill sergeant who drives you to push harder than you thought possible, so you can access the part of you that you didn't think existed.
What type of clients do you work with?
I work with ambitious humans who are looking to do something greater than they are in the current moment, by helping them expand their capacity through an identity shift.
Anthony's Coaching Tip:
Have an obsessive focus on serving the needs of your client. When you're more worried about you, for any reason, you'll lose sight of them… and then they'll lose sight of you.
Follow Anthony:
Check out Anthony's website here, follow him on Instagram, and connect with him on Facebook.
Lisa Taitelman
"Go where you feel alive"
Transformational coach and Follow Your Trail founder (a hiking empowerment program), Lisa Taitelman, uses nature to help guide clients on a spiritual healing path. She has been listed as a Top Female Coach to follow in Yahoo! Finance, and has been featured in Disrupt magazine, VoyageLA and Thrive Global.
What inspired you to start your health coaching career?
It was after I lost my mom to cancer at a young age, I started on my path of self-discovery and learned how hiking changed the course of my life and how it healed me. I went back to school to become a health coach at the age of 53, through HCI, and it was here that I found my trail, working alongside other coaches and this amazing tribe.
What is your coaching style?
I provide a safe, inspirational, compassionate, motivating and healing environment all out in nature. I provide the physical, emotional and spiritual through my six-week program called Follow Your Trail. I ask my clients that the one thing they take away from my program is a deeper connection with women and that they don't feel alone.
What type of clients do you work with?
I work with groups of 8-12 women. I love the group dynamic because we feed off of each other's energy, love and support. I inspire them, through this hiking experience, that it is never too late to reinvent yourself and free yourself of self-limiting beliefs, and live a life filled with joy and fulfillment, especially through our darkest days.
Lisa's Coaching Tip:
I believe that our pain can turn into our passion if we listen to our voice inside. It was not an easy road for me because after being a stay-at-home mom for 20 years, I didn't think anyone would take me seriously. I was letting others' opinions get in the way of what I wanted to say and do, and once I listened to ME, everything changed for me. No one is you, only you have the power to do what is meant for you!
Follow Lisa:
Check out Lisa's website here, follow her on Instagram, and connect with her on Facebook.
Ali Ringer
"You are more powerful than you know"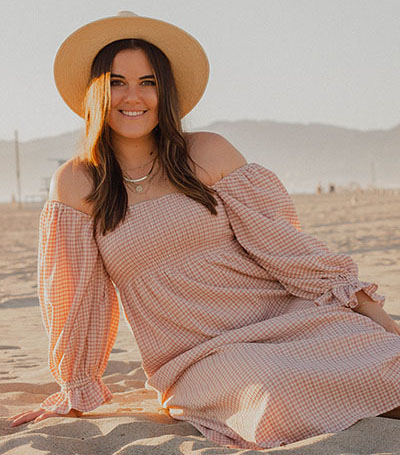 Life coach Ali Ringer specializes in breaking clients free from the toxic cycles that hold them back from their most aligned life. She is the founder of Recov.her.y, a place where women can go to support other women on their transformational journeys, and also hosts a podcast of the same name.
What inspired you to start your coaching career?
After experiencing a recovery journey of my own from anxious, codependent and grasping, to thriving, powerful and living in alignment, I knew I wanted to support others experiencing a similar recovery journey. I thought this would have to be through receiving my master's degree as I already worked in the mental health world. But when I found coaching, I saw how much quicker, and dare I say more powerfully, I could start changing lives.
What is your coaching style?
I help my clients uncover the root causes of their toxic cycles. By getting to the roots, we are able to create new sustainable habits and tools to support them to where they want to be. I tell every client, "We are on a road trip together!" They are driving the car—I am just the GPS.
What type of clients do you work with?
I support women ending their toxic cycles, claiming their power, and building their most aligned lives and businesses. Usually these toxic cycles are within themselves: their self-esteem, their limiting beliefs, their energetics—but they all have powerful missions and goals so I just help them get out of their own way to achieve it.
Ali's Coaching Tip:
I hit my first $5k month, six months into coaching. And I share this to inspire others that they are capable of this, too. My tips to get there? Make sure you know your why and embody it in everything you do with your business. You already have what you need inside of you—just let it out.
Follow Ali:
Check out Ali's website here, follow her on Instagram, and connect with her on Facebook.
Become a Health Coach
Are you ready to make the shift into a coaching career? Join HCI's Become a Health Coach program to learn about health, wellness, diet and nutrition. If you're already a coach and want to advance your skills, check out HCI's Coach Mastery program. Feel free to get in touch with one of our clarity coaches directly by calling 1-800-303-2399.